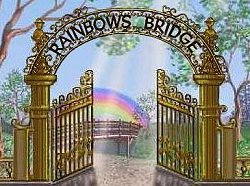 "IF TEARS COULD BUILD A STAIRWAY, AND MEMORIES A LANE. I' D WALK RIGHT UP TO HEAVEN AND BRING YOU HOME AGAIN"
Just this side of heaven is a place called Rainbow Bridge
When an animal dies that has been especially close to someone here, that pet goes to Rainbow Bridge. There are meadows and hills for all of our special friends so they can run and play together. There is plenty of food, water and sunshine, and our friends are warm and comfortable.

All the animals who had been ill and old are restored to health and vigor. Those who were hurt or maimed are made whole and strong again, just as we remember them in our dreams of days and times gone by. The animals are happy and content, except for one small thing; they each miss someone very special to them, who had to be left behind.

They all run and play together, but the day comes when one suddenly stops and looks into the distance. His bright eyes are intent. His eager body quivers. Suddenly he begins to run from the group, flying over the green grass, his legs carrying him faster and faster.

You have been spotted, and when you and your special friend finally meet, you cling together in joyous reunion, never to be parted again. The happy kisses rain upon your face; your hands again caress the beloved head, and you look once more into the trusting eyes of your pet, so long gone from your life but never absent from your heart.

Then you cross Rainbow Bridge together...
~Author unknown...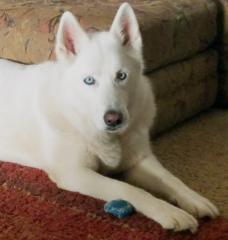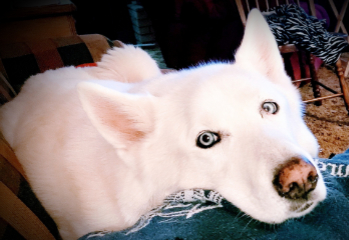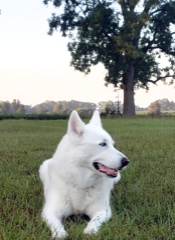 Batsky, Rest in Peace our sweet boy, until we meet again.
Tessa and Chancy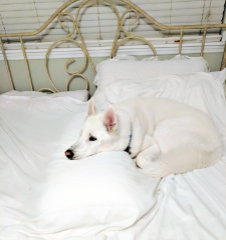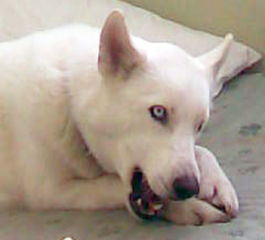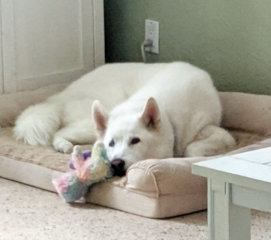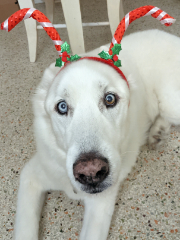 Halo
May 31, 2007 - August 23, 2021
Halo and his siblings were born into SHRF after his very pregnant Momma was rescued just before she was going to be euthanized. We agreed to foster Halo when he was a year old, never expecting him to become the newest family member that we never knew we needed.

Halo stole our hearts from the moment he came into our home and planted his big wet tongue on my face. His gentle spirit and demeanor allowed him to easily fit in with both our canine pack and our human family.

He was all puppy for the first few years---chaos, destruction, and mad Houdini skills with escaping and moving his crate when we were gone. He chewed and destroyed more Legos and Star Wars figures than any of us care to remember. But he kept us laughing with his goofy personality and sweet disposition.

His occasional awkward talking sounded like he needed more practice at Husky-speak. His exuberant kisses nearly rendered showers unnecessary. And his gentleness while growing up alongside our youngest family member was endearing and heartwarming.

We've had many dogs, and several Huskies but there was something irrefutably special about Halo. Words can't express how loved he was or how much he will be missed.

Rest in peace, big boy.

Amy and Chris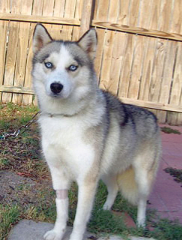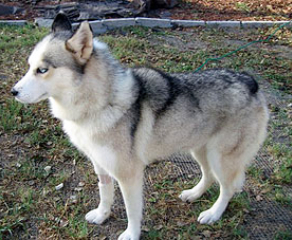 Sheba
April 20, 2005 – June 12, 2020
My Cinderella Sheba. After a heroic struggle with cancer for 3 years and 7 months our most loyal family member Sheba moved from our arms to our hearts forever.

The one that never deserts, the one that never was ungrateful was Sheba. Always faithful and true, even in death. Sheba was a hero for what she had to overcome in a puppy mill and an inspiration to all of what is possible through perseverance and a willingness to trust.

Sheba was 15 years old and we were fortunate to have her for 12 of those years. It was the beginning of her life that was unspeakable. Sheba will be remembered for her incredibly kind spirit. She was and will forever be an example of pure, unconditional love. Our Sheba will forever have a possession of a huge chunk of our hearts.

A dog never dies, they are just sleeping in our hearts. Sheba has fallen asleep in MY HEART

We Love you. Now you are free forever.

Jeff and Teri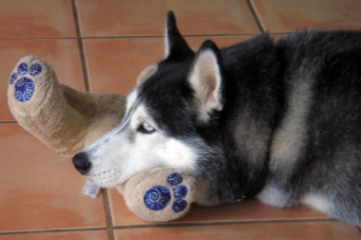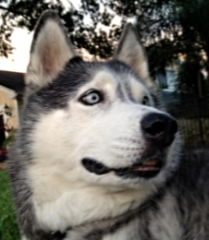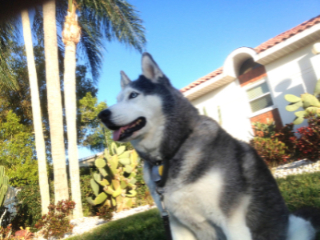 Alley
February 22, 2002 – April 23, 2018
Today we lost our wonderful and amazing Super girl, Alley. Back in March, 2009 she was so personable we adopted her immediately and never had the slightest regret. She was a loyal, affectionate, smart and spunky companion who gave us her best. We had four other Huskies at the time and Alley fit right in; no adapting was necessary.

For a while we called her "Nurse Alley" because of the way she never left my wife's side during two knee replacements at different times.

She just spent the weekend with us and her two SHRF siblings at my sister's horse farm. At her advanced age she occasionally got a little confused by her surroundings and late in the afternoon on Sunday she wandered into one of the larger pastures and got surrounded by five or six geldings. Horses are notoriously nervous with strange animals wandering in their field and a couple of them seemed afraid of this interloper. She wound up being kicked a couple of times, letting out some loud yelps.

By the time we could get to her she had walked out of the pasture on her own, seemingly unharmed but as the day progressed she started to have deep and labored breathing. We decided to bring her home so we could get her to the Vet early this morning but as we arrived home at 2 AM her breathing had become very shallow and labored. She passed over the Rainbow Bridge as my wife and I were hugging her.

Alley was the Champion Husky Bobber at two consecutive SHRF Husky Olympics in 2010 and 2011. She was friendly with all the neighborhood humans and dogs; being the perfect poster girl for why you should adopt a Husky from SHRF.

Like all of our Huskies that have gone on before her, we will miss her greatly but she will never be forgotten.

We all miss you Alley,

Bob, Lorraine and your sisters, Katia and Maya

Rajah
February, 2006 (est.) – December, 2017

Rajah joined our family in May 2011 after we saw her on the SHRF website. She was loving and accepting of us from the moment we put her in the car and brought her home. Within a few days she was running the house. We called her Rasha, then Toshy and she had hundreds of funny nicknames she earned for herself through her funny antics and actions.

Toshy had just finished heartworm treatment when we got her, but she passed her follow-up exams and was 100% healthy. She only had one eye and that was cool. She had no idea she had one eye and didn't miss a beat. Tosh had a great 6½ years with us walking daily, going to the beach, and getting unlimited attention from all the nice, dog-loving people in St Augustine.

A few months before Tosh passed, we got a DNA kit on her and found out she was 25% Samoyed, which explains why she wasn't as neurotic as a pure Husky, but the mixture made a perfect and sweet animal that we can never replace.

Thank you SHRF for saving her, fixing her heart, and trusting us with her. She will never be forgotten by her family

Big Bear
April 2012 – May, 2017

Big Bear was a tall guy who quickly became a neighborhood favorite. His history was rough - neglected, severely underweight, tick infested, Heartworm, kidney disease, and very fearful.

Despite his many issues, this boy was a joy. He went through so much, but made so much progress, medically and socially, until an inoperable tumor took him from us too soon. He was only part of our family for a year, but his happy, prancing, goofy presence is missed so much.

We risk heartbreak when we adopt - but there are no regrets at all. This sweet gentleman deserved a chance to be loved and pampered, and he was.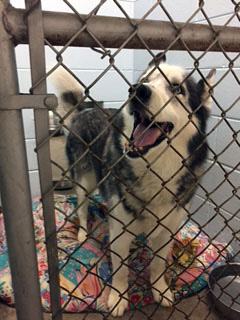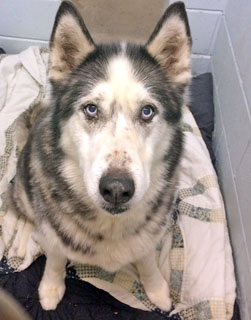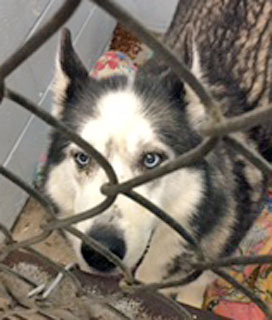 Blue III
April 2004 (est.) – April 23, 2017
Blue was a 13 year old male with black and white coat and blue eyes. Prior to SHRF, Blue was found running in the street, when someone picked him up to get him out of the road and dropped him at the shelter in the hopes of finding his owner. Blue's owner was located but decided to no longer keep him as a result of a divorce.

We don't try to understand the decisions people make but rather focus on giving the Husky the care and love that they deserve and need. When he first came to the shelter he appeared healthy and still full of life. He was neutered, heartworm negative and appeared no cause for concern with his health.... he easily could have had another couple years and he did not deserve to sit in a shelter. But as his days there extended he appeared more and more depressed (who can blame him after being abandoned by his previous owners after thirteen years of loyalty). Once his stray hold was up we took him in.

Being a senior Husky Blue was very mellow and easy going. He suffered from some arthritis in his back legs and we had hoped that medication and vitamins would help...normal for a husky his age. He got along with other dogs and was very loving. He knew basic commands and was a vocal boy.

His foster mom and human siblings noticed that Blue appeared very lethargic and struggled getting up. As there were only a couple pills left from the shelter (to be given once a day) we had hoped that he would make it through the weekend to be seen by a vet on Monday. However, he appeared to have gone downhill from when they first got him. He needed help getting up on his own and he just looked very sad, miserable, his vocals appeared more as cries, and as though he might be in pain. He wasn't eating much (which can be normal for a Husky as they adjust) but he also wasn't drinking water.

He got sick on a Sunday after only a few weeks in his foster home and was taken to the emergency vet clinic. Upon x-rays and examination it was discovered that he had bloat which would mean surgery required. The exam from the vet also uncovered that it appeared he had a lot of muscle wasted in various areas, which generally means cancer. The vet noted even the muscles in his head were reduced. She felt that given his age and health that surgery was not a viable option for him and we agreed. It did not make sense to put him through a risky surgery of which the outcome was very unlikely to allow him to live much longer anyway.

His foster family gave him so much love and attention since he arrived on Friday that at least we know he felt loved, in a home again, and not abandoned. His foster mom was there with him while he was put at peace and no longer suffering.

Above are the only pictures we have of Blue, he was a handsome boy and they do not do him justice. He is at peace now and romping with all the other Huskies across the Rainbow Bridge.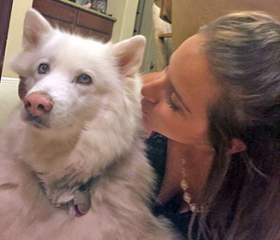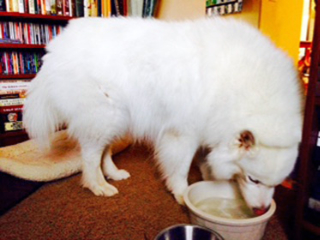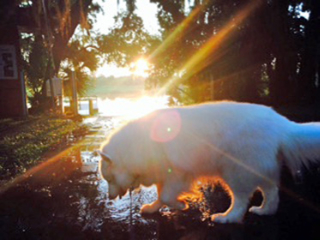 Eska
May 2005 – July 24, 2016
We adopted Eska on May 12, 2012 as a middle aged girl of seven. She gave us a little over four years of joy, affection and loyalty until succumbing to terminal liver cancer on July 24, 2016. I will only say that Eska became a very big part of our lives, and her loss has left an empty space in our home.

We miss you Eska,

John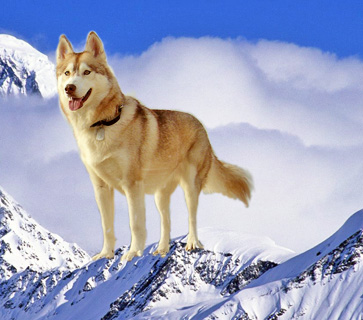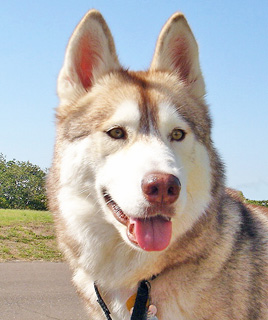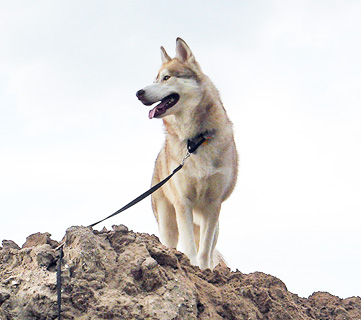 Layka
2004 – August 8, 2016

With the heaviest of hearts we had to say goodbye to our beautiful amber eyed girl, Layka, and help her cross the Rainbow Bridge. Over two years ago she was diagnosed with osteosarcoma in her left tibia and was given, at best, three months to live. This big, strong girl defied the predictions of two Veterinarians and went on living, loving and barking.

In July of 2016 things caught up with her and she started to limp. She was again diagnosed with the sarcoma and this time, with her being almost thirteen years old, she could not fight it off. Beside the sarcoma she was also battling liver enzyme problems, pancreatitis and severe anemia. The time had come to let her go.

For ten years my wife and I reminisced about how lucky we were to get Layka. She was originally brought to another SHRF adopter who mistakenly considered her too "Alpha" to get along with their young Husky boy. We took her in as foster parents and within twenty four hours we knew we could never let her go.

Layka, despite her size and strength, was incredibly affectionate. She was always ready, even with strangers, to lie at your feet and roll over for a belly rub. She would jump on the couch with me, put her head in my lap and fall asleep for hours – sometimes much to my discomfort when I needed a bathroom break and I couldn't bring myself to disturb her.

She gave us over ten years of joy and companionship for which we will always be grateful. Layka is now on the other side of the Rainbow Bridge, illness free, romping with our nine previous Huskies, seven of whom appear on these pages.

We all miss you Layka,

Bob, Lorraine and your sisters, Alley and Katia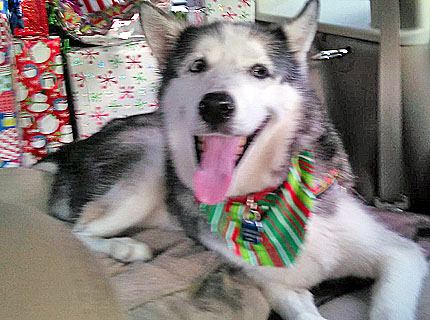 Loki
2002 – July 30, 2016

It is with a sad heart that we had to say goodbye to our boy Loki who crossed over the rainbow bridge as he slept last night. He lived a good long 14 years and played with other dogs just the day before. He went to sleep last night on his bed, a happy boy, but he did not wake up this morning. He went in peace, on his own time. I guess we could not have asked for more.

Loki was a great rescue Husky that marched to his own drummer. He loved car rides and Christmas. He went peacefully, without pain.

His pack is together again; he is now with Kasha and Thor.

We love all of them, Michael and Desiree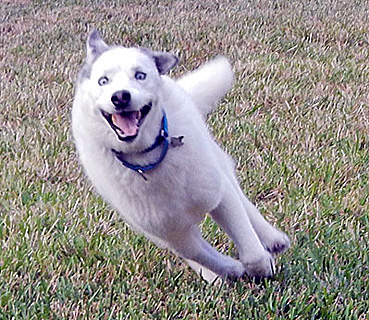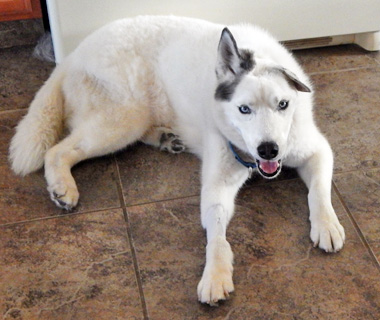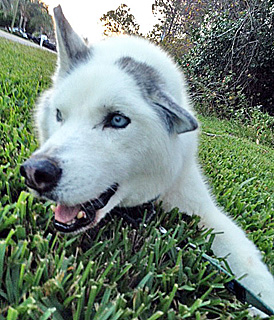 Sky II
July 2007 – March 2016

Sky came to us in rough shape. We had him for two years and lost him in early 2016.

His history was unknown with evident abuse, He had his left ear canal and cartilage removed due to infection.

As shown in his pictures, his folded left ear is not a trick he performs. After a few days in foster care, we noticed he did not show the expected response to sounds. His vet said the cartilage in one of his ears had turned to calcium, which caused constant pain and ear infections. He had surgery to repair this; the cartilage was removed and the ear closed. As a result, he had no hearing in that ear. We felt his new image gave him a special, appealing look, kind of saucy, like a French beret … and he looked as handsome as ever.

Disc and other issues made him a diapered dog for the last year of his life, but this did not diminish this guy's incredible dignity. His gaze contained a lifetime of wisdom. He knew things - or maybe not - but it was gratifying to speculate. Huskies are amazing. Many thanks to SHRF for giving so many Huskies the second chances they deserve.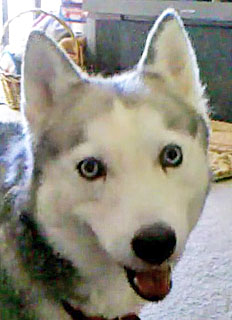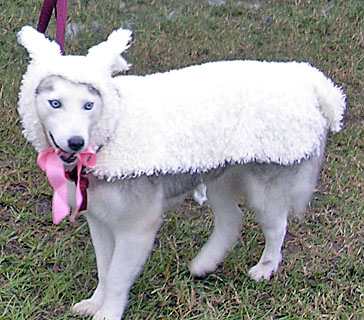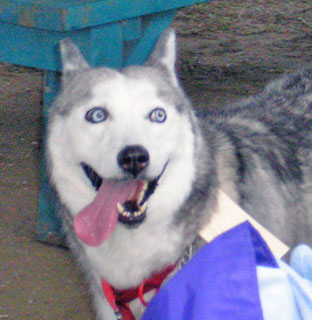 Duchess
May, 2001 (est.) - March 5, 2016

Duchess was abused in the first two years of her life. Her owner used to hold her by the collar and beat her. He finally turned her in to the Humane Society showing that she tried to bite any time anyone went to her collar. SHRF then rescued this underweight dog.

The SHRF foster family did wonders getting her to realize it was all right if someone touched her collar, but the reactive instinct followed her throughout her life. We met her at an adoption event where she just leaned into us, looking for love. And love was what she got over the next 12 years.

She loved life. She loved people. She loved running. She would run back and forth around the yard at top speeds. She gained weight until she reached a normal 45 pounds. She had a game with the cat where the cat would walk by taunting her into a chase.

She loved playing with her adopted sister, a Golden Retriever. She enjoyed the walks through the neighborhood showing everyone how pretty she was. And she was mouthy. While we have had other Huskies before her, she was the most expressive and vocally demanding of any. She loved her people, and was loved in return.

In her last year, she developed trouble with her back legs, and was having trouble walking. She also became hard of hearing and was having trouble seeing (possible because she was constantly whapped in the face by a golden retriever tail). She passed gently from this life to the next with her two buddies waiting for her.

With love and remembrance, Shirley and Brian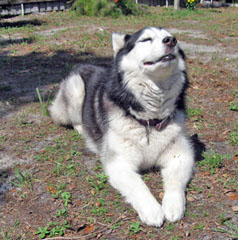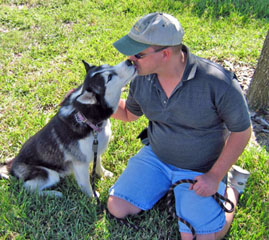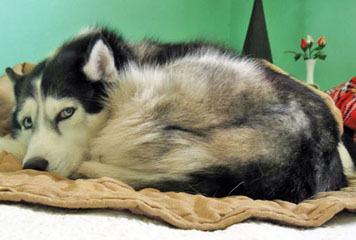 Schmoo
2004 - February 10, 2016

Schmoo was a Hurricane Katrina survivor and first entered SHRF shortly after in 2005.

During the storm she got separated from her original owners and wound up in the hands of a New Orleans restaurant owner and his family. Since the hurricane destroyed their restaurant, they needed to take emergency action to care for themselves and their own two dogs. They tried for several weeks to locate Schmoo's owner with no success.

Schmoo eventually found her way to SHRF and a foster home in Jacksonville, Florida and then fortunately to me.

I was privileged to share the next ten-plus years with Schmoo. She was a model Husky, loving and well-mannered. We enjoyed many long walks through the neighborhood, relaxing hours in the backyard and countless visits to the other "pack members" of my parents' Huskies.

Thank you to Ginger, Peggy, Celeste and the other SHRF volunteers of the time that made Schmoo one of the best parts of my life.

With love, Dan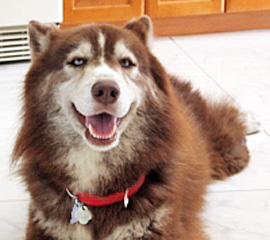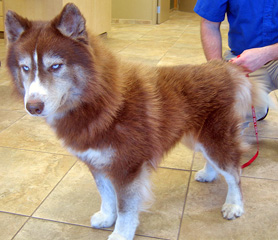 Axel
November 18, 2006 - January 3, 2016

What can I say, Axel was a very good dog with a loving heart. Our memories of him will forever give us happiness and help us continue on.

His constant greetings of joy and excitement made an average day miraculous. He was always ready for the next excitement in life regardless of the brevity. He was selfless in his actions, providing comfort to his family when necessary.

It was almost instinctual for Axel to know when he was needed or wanted and for that we will always remember him. We miss him greatly, but in our hearts we know that he is in a place far more benevolent.

The thoughts of him are memorable and the idea of just knowing Axel outweighs the sadness that we would feel if we never had the opportunity to meet this saintly dog.

With love, Calliopi Ratcliff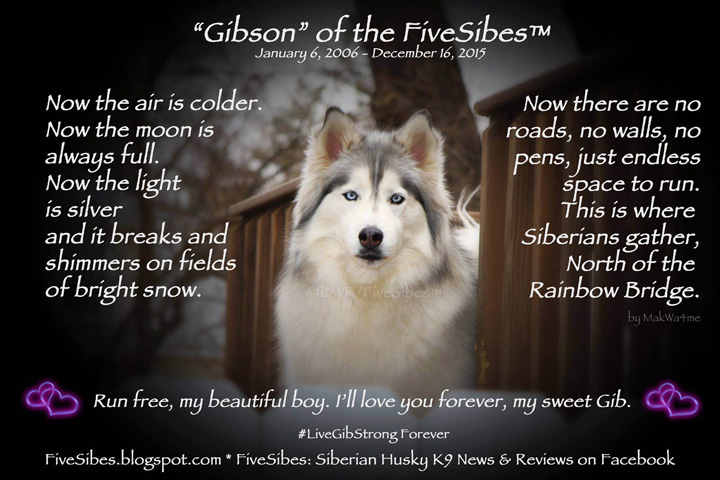 Gibson
January 6, 2006 - December 16, 2015

It is with a broken heart that I now share that my beautiful, #Epidog, "Gibson," has earned his angel wings. Epilepsy did NOT define him, nor did it take him from this earth. He was a strong, brave, and inspirational boy who did not let challenges stop him from loving life. Each health challenge he met head on, trust me that I would be by his side, and he conquered each one. And at the end, Gibson beat the "seizure monster." His Epilepsy was managed by medications and supplements and he had not had a seizure for almost 7 years! Bravo, Gibson!

Today, while in surgery, it was discovered that Gibson's tumor had metastasized. It was not just in the spleen. It was all over, including an orange-sized tumor in his liver. Gibson was gently and peacefully let go as the heavenly angels came to escort him North of the Rainbow Bridge. I know my mother, who just passed on November 15, 2015 now has him wrapped in her loving arms. She was with us the day we welcomed him home as a four-month old puppy, and now she is welcoming him home to Heaven.

The rest of the FiveSibes pack woooed to him when he left to go to surgery, and they just finished wooing to him now. Please remember him always and his brave fight against #CanineEpilepsy. And always remember - #LiveGibStrong in everything you do, because he did. Right up until the end. He proves that dogs can ~and DO~ live full, happy lives with Canine Epilepsy. I will be offline for awhile as I am so heartbroken and so miss my brave, beautiful, special boy. But when I come back, I will continue our #LiveGibStrong Canine Epilepsy Awareness Campaign, with his brave spirit beside me. We here at FiveSibes wish you all blessings of the holiday season. Hug your pups and family a bit tighter this holiday season in the name of Gibson and my Mom, for they both loved life. Gibson was a very happy Husky and had a wonderful summer and autumn, frolicking, swimming, singing, playing, and this past month he even jumped back up on the couch and chair to gaze out our front window. Something he hadn't been able to do for quite some time as he was rehabbing his legs from a fall and from his hind end weakness. While he was in very bad shape at the ER, through the help of my vet, he rebounded to be happy and perky for his final days. He went out very peacefully as a proud, happy Siberian Husky.

I will always remember how he loved to give Gibbie kisses; go for walks and car rides; how he did his special Gibbie hip-hop dance; how happy he always was every single day; how he loved his girl Harley and his siblings, the Pupsters; how he loved to woo "love you" and "ice cream;" how he loved to give me his big, heavy, beautiful polar bear paw; how his namesake treats - the House Woof "Gibbie Snacks," pizza crust, and ice cream were his all-time favorite treats; how much he loved the snow; how beautiful and velvety his nose was; and how soulful and understanding his beautiful blue eyes were. Gibson - I will love you for eternity, my sweet boy.

I deeply thank my amazing, caring, loving, and very special team of veterinarians and vet techs - all of whom Gibson loved dearly and bestowed his famous Gibbie kisses on right up until the end.

Thank you so much to all of you for being with us through this final journey of Gib's. What a wonderful caring canine community we are part of. Your prayers, hopes, wishes of healing light, and supportive words have really help to get us through this time. Through tears, I have read so of them many to Gibson. We are so blessed to know he was wrapped in so much love from across the world as he left for his journey North. Thank you from the bottom of my heart. We will always be the FiveSibes, with FurAngel Gibson by our side, always and forever.

Gibson and I are so thankful for all the love and support he received worldwide, including from our wonderful friends at the Siberian Husky Rescue of Florida. Gib, you inspired so many with your strength and zest for life. With your spirit by my side, we will continue our #LiveGibStrong Canine Epilepsy Awareness campaign to help inspire others that dogs can, and do, live full happy lives with Canine Epilepsy, just like you did. In the end, when you left for your journey North of the Rainbow Bridge, you had beaten the "seizure monster" having been seizure-free for seven years! #LiveGibStrong forever, my amazing, strong, special boy. You have my heart always, and I will love you for eternity. Run free, G. Run free, and let those sparkling white snowflakes gently touch your sweet velvet face.

Love, your Mom xox ~FiveSibesMom, Dorothy Wills-Raftery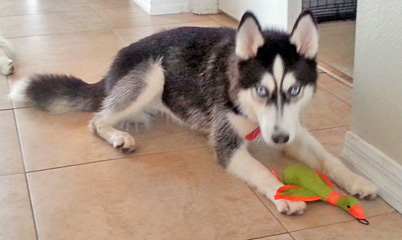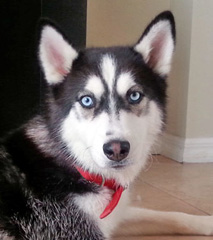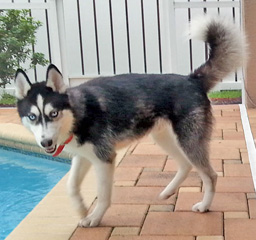 Stormy
May 2014 (est) - October 8, 2015

Through no fault of his own, our beautiful young boy Stormy had to be helped across the Rainbow Bridge on October 8, 2015. He had increasing neurological problems that made it harder and harder for him to process what he was seeing and hearing in his surroundings. He had constant bouts with confusion, offset by occasions of lucidity. It became a continual and increasing struggle for him.

Complicated by occasional seizures and just a decreasing quality of life, the look in his eyes told us he was in pain. His neurologist said things would only get worse and there was little to no hope of reversal.

With tears in our eyes we had to let Stormy go. As he began to succumb to the medication, his look of pain seemed to change to relief as he slowly went on his way across the Rainbow Bridge to where, as legend has it, "All the animals who had been ill and old are restored to health and vigor."

All of us at Siberian Husky Rescue of Florida are saddened by your departure, Stormy, but we know your pain is gone and you are now in a better place.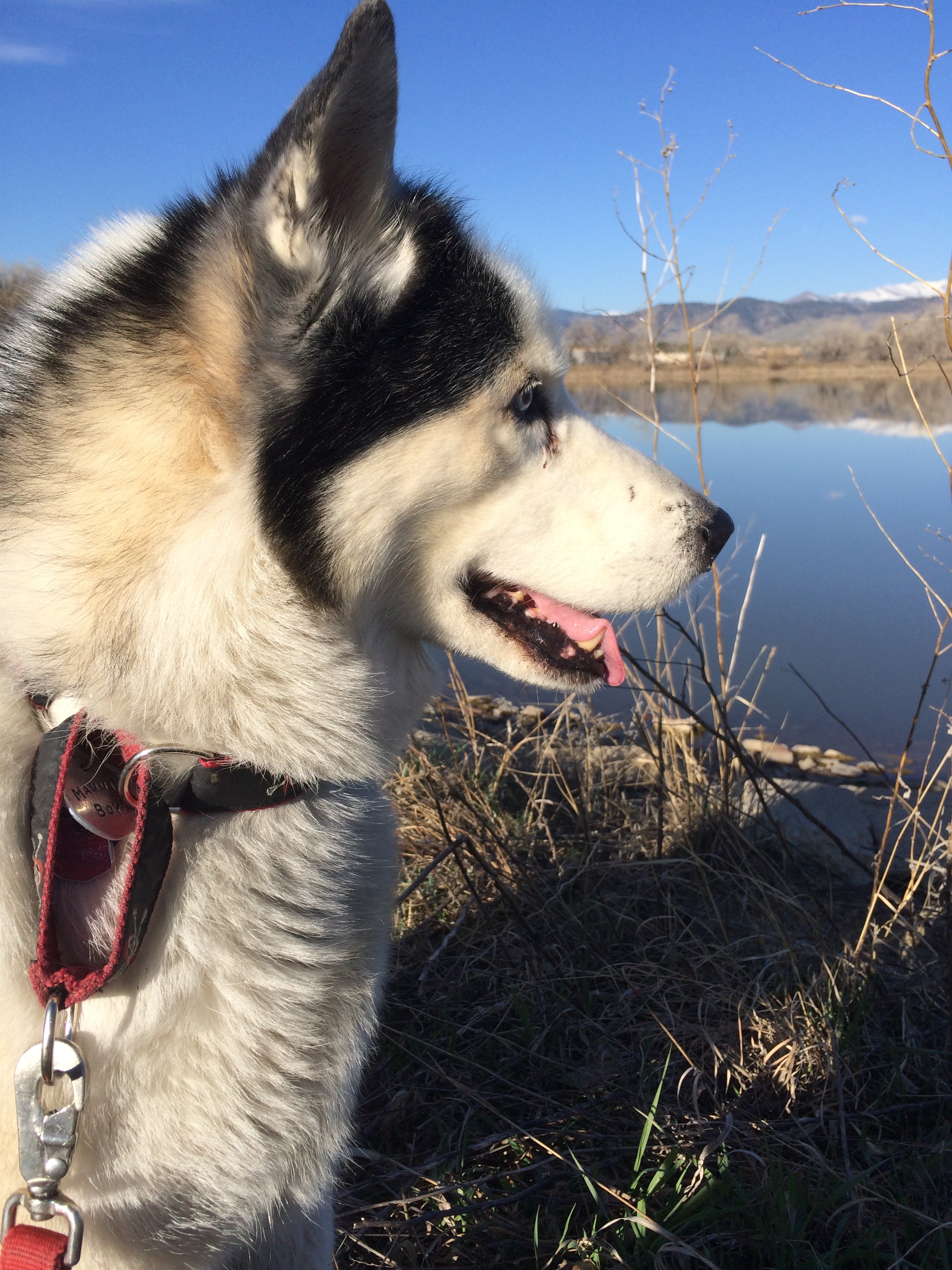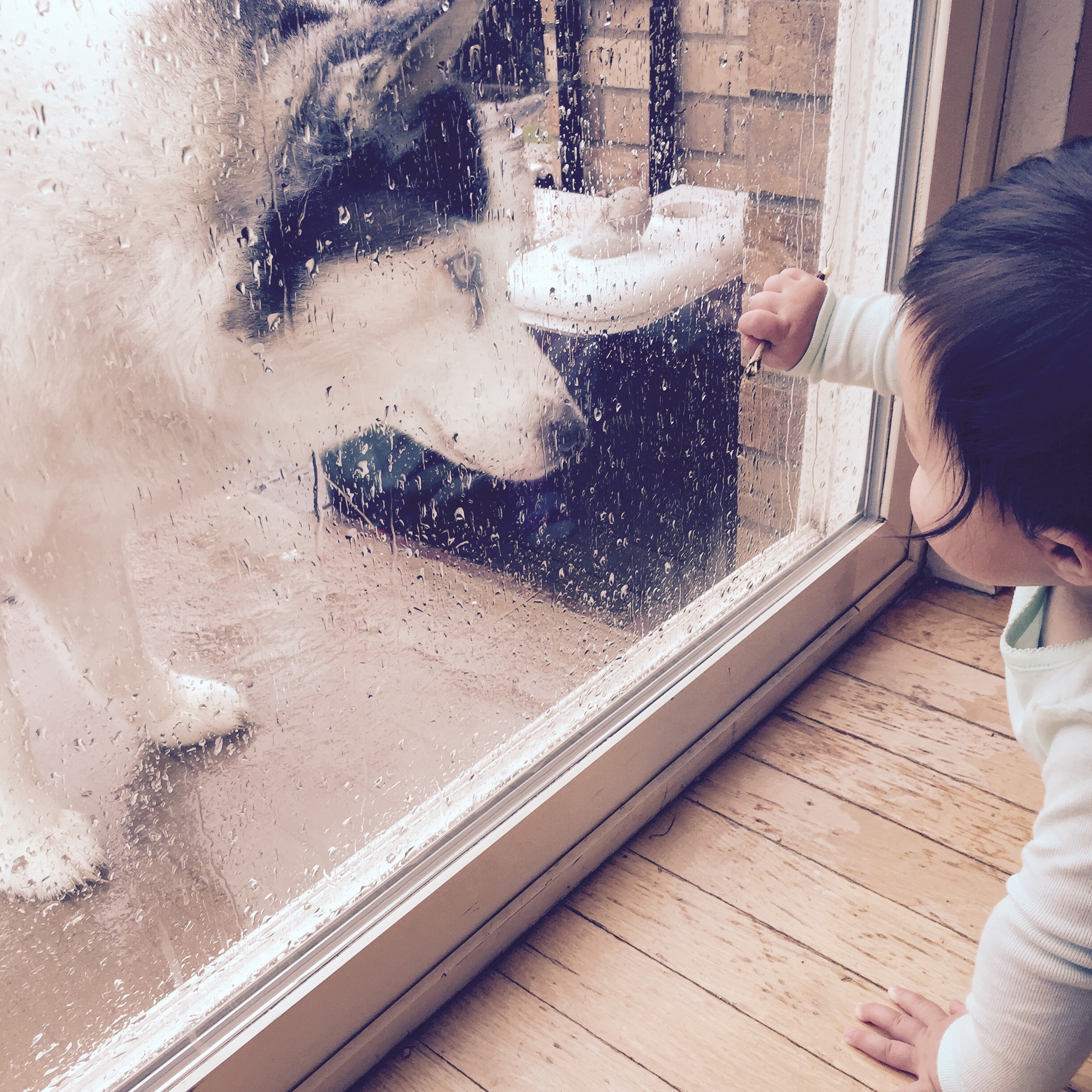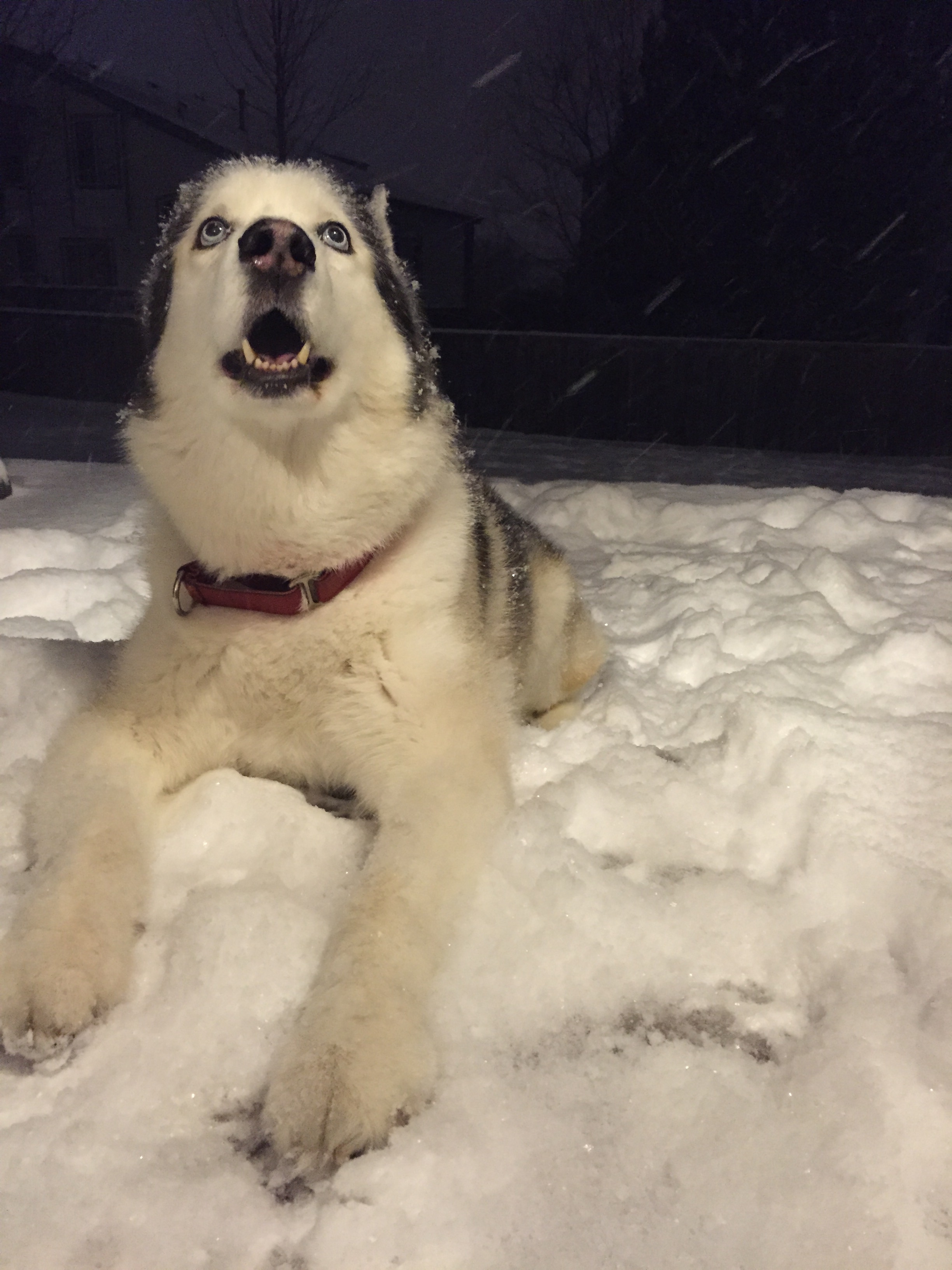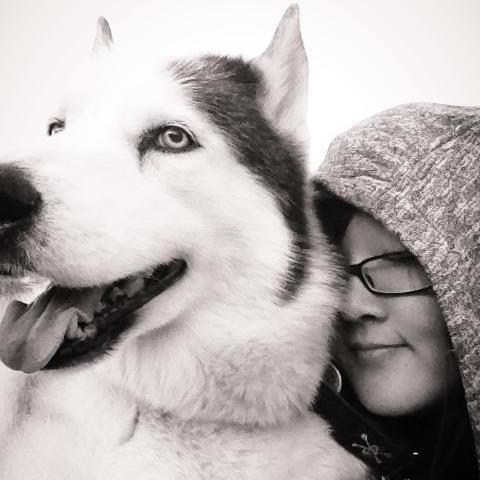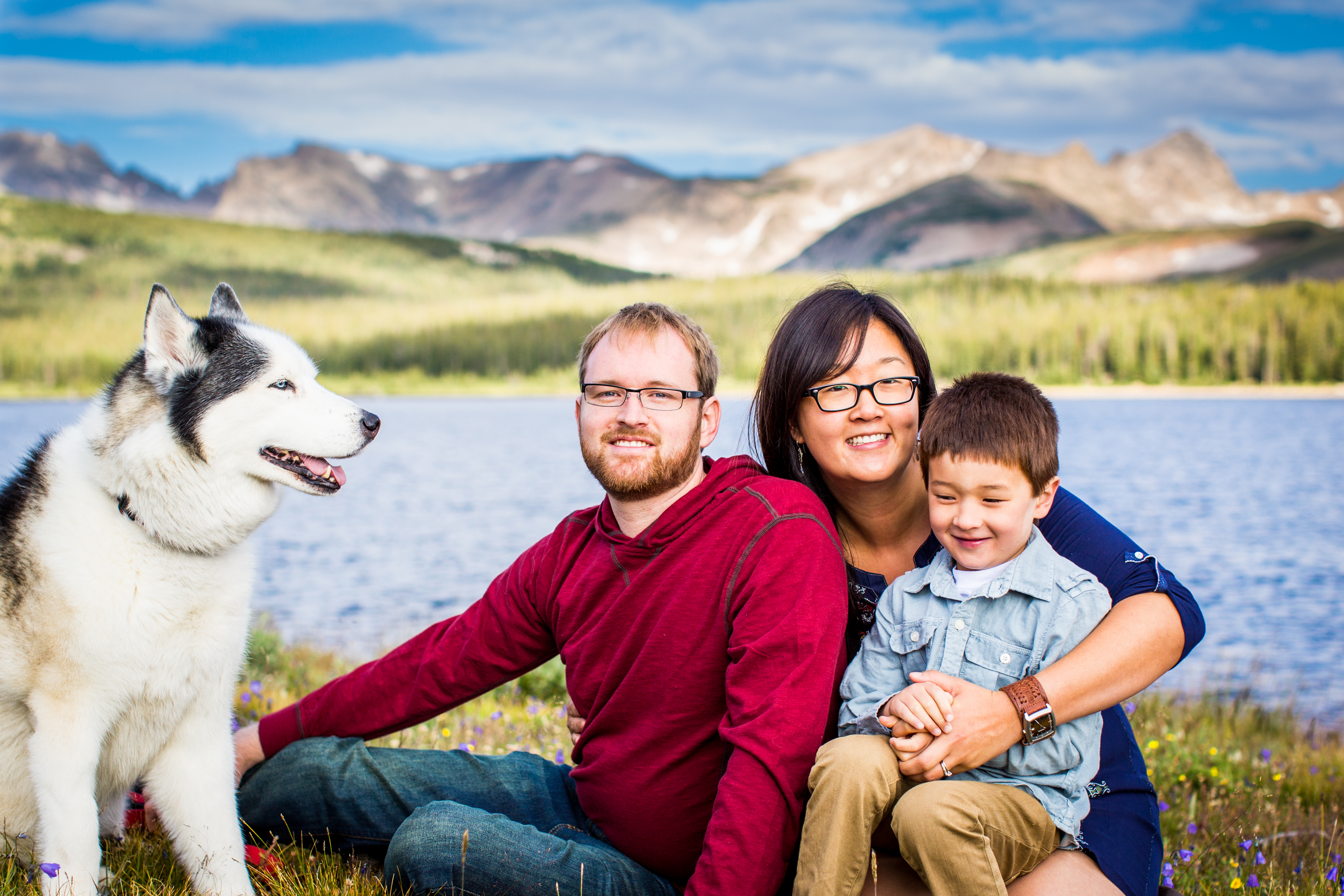 Orion II
2004 - August 5, 2015

We adopted Orion from Siberian Husky Rescue of Florida in the early part of 2006. As a newly married couple with love to give, we were excited to finally reach a point where we could adopt a dog with whom to share our home and lives.

We started our search for a furry baby and saw the most beautiful red Husky on the Siberian Husky Rescue of Florida's website and immediately applied for consideration to get to adopt him. We waited on pins and needles to hear back from SHRF after our references were checked and our home inspection was completed. Was our apartment ok? Were we suitable pet owners?

While in a movie theater, I got a call from the rescue and jumped out of my seat to accept the call. Standing outside the movie theater in the hot Florida sun, I took a deep breath and crossed every finger possible as I awaited the news. Peggy, the rescue's president at the time was on the other end and said that we were approved as suitable adopters; however, the dog we expressed interest in was just adopted.

Hearing disappointment in my voice she continued on by saying, "We do have this other dog ... he has been returned back to us several times already because he is a bit ... wild ... but with the right family and a whole lot of training he might just do ok. You will have to prepare yourself because he can be aggressive, very destructive and demanding." I ran inside to tell Alex and somehow even after that description, we both immediately said, "Yes! We will take him. When can we pick him up?"

Peggy said, "We can schedule a pick up soon but let's call this a foster-to-adopt rather than a full adoption first, since he has such a track record of being returned." Alex made the trip to St. Petersburg where we found out that Orion was being fostered at Peggy's house because no other foster placement would accept him.

Because Peggy had recently had surgery on her foot, she wasn't able to walk the dogs that she fostered. For exercise, she let them swim in her pool. She cautioned that Orion seems to love water more than the other dogs. This would prove to foreshadow many adventures to come in the future.

Alex loaded Orion up and brought him home. As soon as I saw the car pull up, I ran down the stairs, flinging open the door and raced to hug him. He was gorgeous - with beautiful black, white and tan markings, and an air of assumed royalty he never fully let go. He was nervous but jumped into my arms, perhaps more eager to get out of the car than to greet his new future family.

We decided to change our status from foster-to-adopt to adopt within a day. The rescue checked in with us frequently, especially in the first couple of years. They couldn't believe we were willing to adopt him and that we, unlike other families, wanted him forever. Finally, at the last call we received, Peggy said, "I think Orion was just waiting for the right family."

He was not a perfect dog, but he was perfect for us. Signing the stack of adoption papers felt monumental as a newly wed couple, like we were truly creating a family with someone dependant on us. It would never be so apparent that truly, we depended on him, until now, we are facing life without him.

Orion was a handful, especially in the early years. Wait, who am I kidding?! Huskies have long periods of adolescence, or so I'm told by vets or others familiar with their brewed characteristics, so really, he was a handful until maybe just a couple of years ago when his ebullience slowly turned to a more subdued zest.

It was hilarious having a Husky in Florida. People stopped us all the time to ask questions, to pet him. He was such a handsome guy that we were approached several times by people who wanted to buy him. Once someone even offered me $2000 to buy him. It wasn't just his good looks that drew so much attention -- he walked with an air of confidence and joy I haven't often seen.

Orion would frequently escape from his leash and collars, running through Riverview and Brandon, just fast enough that we couldn't catch him but just slow enough to let us know he was thoroughly enjoying taunting us. We learned quickly that only Martingale collars, designed for greyhounds, were too difficult for him to wiggle out of. He would peek over his shoulder at us, even pausing in someone's yard to wait for us, panting heavily, to catch up, and then he'd dart off again, his athletic and muscular body meant for long periods of running. On most occasions, our chase would end when Orion would jump into the ponds or lakes in our neighborhood. He would gleefully swim into the center so that we would have to jump in with him to get him out. We often felt that Orion would escape just so that he would have an opportunity to get to swim again.

He was also protective of us; once, at the dog park, a pit bull that was months later euthanized for killing a stranger, jumped at me, teeth bared and growing, lunging for my face. It was terrifying and it was clear he meant me harm. Orion came out of nowhere and in a slow-motion ball of teeth, fur and heart, pinned him down to the ground. The pit bull was 100 pounds to Orion's 65, but Orion wasn't fazed. The dog would wiggle, growl back and try to get out of Orion's release but he held him there, by the throat. When the dog's owner finally came, Orion released him right away, checked on me and then bounded away like some superhero. (The pit bull wasn't injured, except maybe his pride suffered a bit.) Orion also stood guard over our young son - not letting strangers approach his stroller, and always keeping a watchful eye.

Orion was curious, puppy-like for so long. Once the curiosity nearly cost him his life when he sniffed a rattlesnake and it bit him back in return. Thankfully, after a frantic drive 25 minutes away from our house, the vets were able to administer antivenin in time. A year later, he somehow managed to climb on top of our kitchen counter, open a cabinet and remove a pound of baker's chocolate and devour it. When we came home, he was lethargic and ill. This was another frantic drive to the vet, but thankfully, another close call that resulted in a full and happy recovery.

We moved to Colorado five years ago and were so happy that Orion would get to experience snow and the change of seasons for the first time. He took to the climate, our frequent hikes, and the snow like a natural. He would love to curl up on the snow with his tail wrapped around his nose, and drift off into a happy slumber. We loved just watching him gleefully bound through the snow. Once the snow was so deep that when he leapt into the snow, all we could see was the top of his ears and his tail.

He never tired of the many hikes we'd take - we could hike for an entire day and after a nap in the car, would be ready for another walk when we returned home. Though we were often nervous about another repeat encounter with rattlesnakes on the trails, we would just be extra cautious because he loved being with us on the mountains so much.

Just like Orion's energy was boundless, so was his love and loyalty. When my mom died, I couldn't leave my bed. Yet, I would awaken to his gentle nuzzle as he would peer over the side of the bed at me. He would curl up right by my bed, and would only get up if I did. He sensed our emotions - if we were stressed or upset, he would entice us out of our bad moods by prancing around the house, spinning in circles, or even just demanding attention in what we would perceive as Orion's way of reminding us that life's daily struggles aren't that bad when we have each other. I'm pretty sure that this is one of the special gifts that dogs bring to our life: perspective, forgiveness, never-ending love and loyalty. Perhaps this is why people have chosen them as companions for so long.

We thought we had more years of memories to make with him but we were not so lucky. Suddenly, after a routine vet visit, Orion started acting strangely. He began pacing, crying, wouldn't eat or sit down and vomiting large amounts of clear mucous. After a rushed visit to the emergency vet, the subsequent X-rays showed that he was suffering from serious gastric dilation volvulus and likely, from the loss of blood flow to his organs, was experiencing a great deal of tissue death. He was in so much pain and being 11 or 12, the surgery wasn't a great option. Together, just as we decided to bring this wonderful guy into our family, we had to make the decision to put him to sleep. Along with our 7 year old son, Alex and I cradled his head and talked to him gently as he drifted off to sleep for good.

Our hearts are broken. Orion made us a family. His absence is felt acutely, painfully -- there was no circling in his bed, or panting when it got too hot last night, no expectant paw stomping when he needed a walk, no hopeful eyes waiting under our children's chairs at breakfast, no thick, furry bear hugs and no happy jingling of his collar and tags when he ambled around the house looking for us.

I am hoping that soon, the acute awareness of these lost experiences will be filled with more happy memories of this special, not-perfect-but-perfect-to-us, loving, handsome, protector of our hearts. We won't forget you, Orion. Thank you for choosing us. And thank you, SHRF, for all the amazing work you do on behalf of these truly special animals.

Sarah and Alex Mohler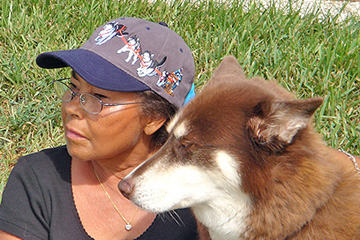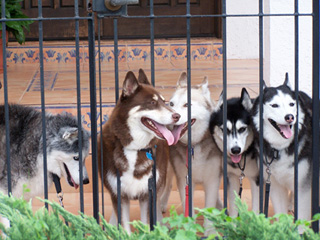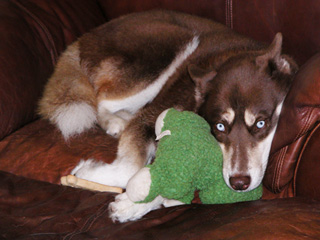 Chloe
January 2001 - August 1, 2015

Since we are known in the neighborhood as Siberian Husky Rescue of Florida volunteers, my wife and I were contacted in early January 2002 about a small Husky that was roaming a nearby golf course. After fending for herself for three weeks, an elderly couple finally lured the scared young girl onto their lanai, called us and we went over and picked her up.

She was covered in nettles and burrs, missing all of the hair on her ears and tail and about half of the hair on her body. She was extremely shy and hesitant toward humans but we took her to our veterinarian and she was treated for mange and given all her shots.

The first thing you would notice about Chloe was her eyes. She had smoky, sultry blue eyes reminiscent of the legendary movie actress Lauren Bacall. In February, 2010, she won the "Prettiest Eyes" contest at SHRF's annual Husky Olympics.

Chloe was also well known in the local area for her unique way of "wooing"; it actually was deeper than a typical Husky and sounded more like a cow's moo. She entertained the neighborhood when walking down the street mooing at all the joggers and walkers who happened to pass by.

She was a perfect housemate her entire life but just two days ago, out of the blue, she could no longer stand on her hind legs, her eyes were hugely dilated, she was confused with her surroundings and we feel she had some form of stroke. She crossed the Rainbow ridge and is now with all her former sisters. She was the last survivor of the five dogs in the center picture above.

She was a quiet, loyal companion for 14½ years and will forever be in our hearts.

Chloe, you will always be remembered: Bob, Lorraine, Layka, Alley and Katia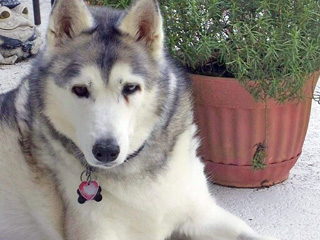 Timber
May 2004 - May 9, 2015

I remember the day in May, 2004 I drove to the Loves Truckstop in Polk City to pick up Motsey, a Siberian Husky Rescue of Florida puppy to foster. When I took my first look at that cute all gray Husky my heart filled with joy. He was 5 months old and I immediately decided in my mind, I am keeping this boy. On the drive back he put his sweet head on my lap.

I decided to call him Timber. When we got home, Timber met his soul mate, Rocky, a two year old SHRF Husky. They loved each other dearly. Timber would copy all of Rocky's movements. Timber worshipped Rocky.

In 2012 Rocky got cancer suddenly and we lost him. Timber was heartbroken and grieved for months. Timber was a sweet love. His beautiful brown eye and parti blue eye were beautiful. He did not have a mean bone in his body.

I took Timber along in the RV we bought last year. His favorite thing was trying to catch squirrels, which Rocky taught him to do. Then tragically in March this year, Timber developed a melanoma tumor in his parti eyelid. The vet gave him two weeks. Well, he gave us 2½ months before he lost the battle on May 9, 2015. My heart was broken again.

The day Timber went to Heaven (Rainbow Bridge), at dusk I looked in the sky and saw a double rainbow. Timber was telling me he was fine with Rocky in Heaven. I thank God for over ten years with Timber.

I miss you dearly Wookie (his nick name) but I will see you again when it's my turn to be with the Lord.

Bill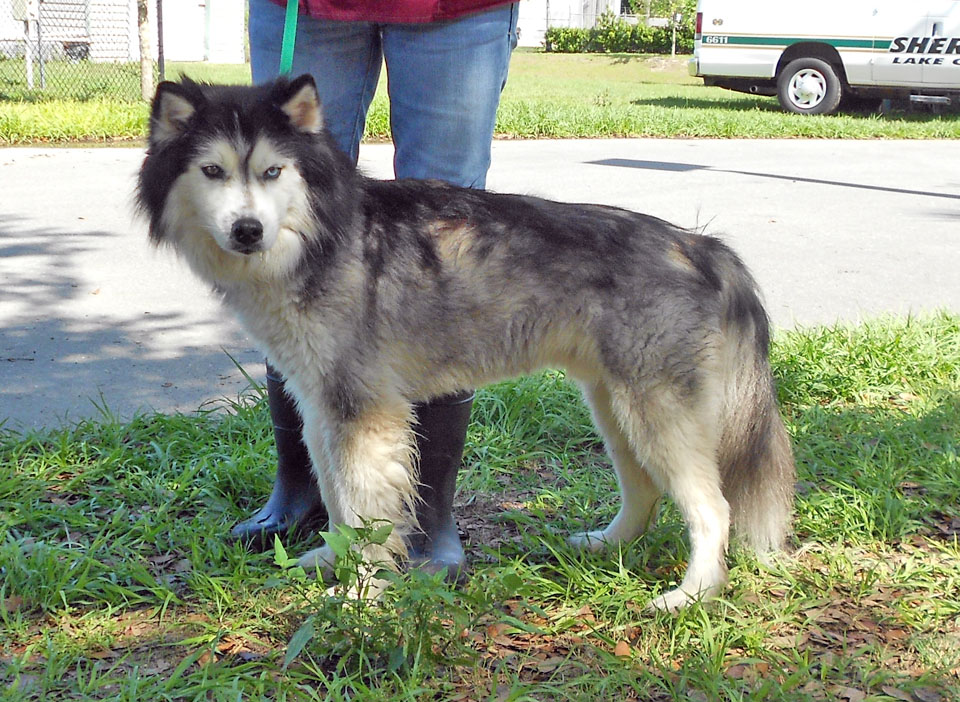 Tris
October 2009 (est.) - April 2015

This is Tris, a wonderfully handsome, wooly, young adult Husky boy that was picked up by the Siberian Husky Rescue of Florida organization on Monday, April 27, 2015. When he was picked up he immediately went to a local veterinarian for an intake checkup. He was found to be in great physical distress from heatstroke and went from the local vet to an emergency vet where he was treated over the next two days but they were unable to save him. He had been at the Lake County, Florida, animal services shelter and was "inadvertently" left out in the high heat and humidity over the weekend of April 25-26, 2015 without sufficient water, food or shade.

Tris was a happy, healthy adult dog that already had a foster home waiting for him. He didn't deserve this and the world has suffered an unnecessary loss.

Tris is now happy and healthy again on the good side of the Rainbow Bridge

Bob, SHRF Webmaster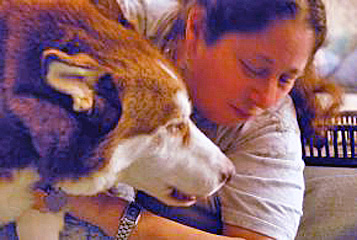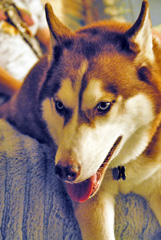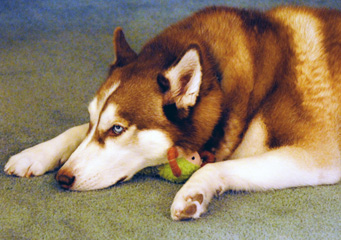 Moose
December 16, 1999 - April 17, 2015

Moose lived to be over 15 years old, but even that wasn't long enough to have him with me.

He was a funny happy-go-lucky fellow, known for his French kissing and crotch goosing. He liked to put his front paws on your shoulders and his tongue in your mouth.

Moose was huge, "Practicing to be a Great Dane" I used to say but very, very gentle.

He was a hen-pecked "husband" to Tiger, partners in crime with Casanova, and mommy to Ruby (who never let him out of her sight). Ruby misses him, and I miss him.

There will never be another Moose.

Diane
Lobo III
2010 - March 2015

This is Lobo. He was a 5 year old male with a black, grey and white coat and haunting blue eyes. SHRF picked him up from Hillsborough County Animal Control on March 27, 2015 as an emergency situation based on a call from the shelter early that afternoon asking if we could take him in as he wouldn't make it through the weekend at the shelter due to his health. There was thought to be slim hope for him with proper medical care, otherwise they would have euthanized him sooner. We immediately took him to a local veterinary specialist where he was diagnosed as being in renal failure and his prognosis did not look good. However, he did show some signs of improvement after being on fluids for a few days so we had the vet proceed step by step so we could evaluate him further; given his poor prognosis.

A few hours later, after further examination and tests, they found Lobo had severe protein loss which caused fluid build-up in his abdomen and between his chest and lungs. This conflicted with the need to give him fluids for his kidneys. The fluids for his kidneys would end up redistributing with the fluid build-up, causing additional problems. It would be highly problematic and difficult to treat.

He was also going to need a blood transfusion. After contacting the emergency vet that had treated him earlier we found out that he had already had one transfusion; another indicator of a poor prognosis. To make matters worse, an additional blood test showed Lobo was positive for leukemia.

As a result of all this, we had to make the unfortunate decision to have Lobo put to rest. This poor baby just didn't have anything in his favor medically. Even if we did try to continue treatment, it would have resulted in a poor quality of life, even if he made it. In the end, he was just too far gone in terms of internal damage from all those months of neglect.

Lobo was a sweet, gentle soul who was the victim of a severe animal cruelty case requiring a call to the authorities. All while we were treating him he seemed thankful to be out of that unfortunate situation. The only glimmer of a bright spot in all this is that he knew he was now in the hands of people who cared enough to look after him in the end and alleviate his suffering. At the end he finally had the opportunity to see what love is.
Saber
1999 - December 2014

My husband Wayne saw Saber in need of rescue 15 years ago. He was left outside on a chain with old food. Wayne paid a small amount for Saber, took him home and began loving him.

Saber had never been in a loving home before. He didn't know what the inside of a house looked like, hadn't known a loving pat, until Wayne rescued him. It took some time but Saber slowly started trusting humans and he grew into a very loving a playful goof. Wayne gave Saber a chain free life.

Wayne himself went through a very tough time before he met me. Saber and the pack "three Huskies" carried Wayne through the dark time. To me I will always think of Saber and his pack as heroes. Saber knew what Wayne did for him, saving him from chains; their bond was stronger than we will ever know. Wayne and Saber both saved one another.

I honestly believe, without a shadow of doubt, now that old age had set in, Saber's instincts took over; knowing his time was nearing its end. He headed for something he loved. Saber loved water so very much. Although it seems surprising to us he left his pack to go down to water one last time, there to lie down and gently cross the rainbow bridge. I'm so grateful and very thankful that the water was frozen, so that we were able to find him. I am happy that Saber got to die free not knowing chains or fences any more.

I only knew Saber for a year but I see what he meant to my husband and what Wayne meant to him. I will always love Saber for he kept my husband going during very trying times. If not for Saber and his pack there'd be no me and Wayne. Thank you Saber for loving Wayne before I could, rest in peace buddy and have fun running around with all the other dearly departed pets.
Keno
2000 - 2014

Our hearts will be forever broken as we realize that we have to live the rest of our lives without you!

Simone, Norman, Jordan, Ivanna , and his brother and sister Capone and Mischa

On July 9, 2011, we lost our beloved boy, Troop, who crossed over the Rainbow Bridge at the age of twelve years and five months.

Troop and Lacey first came into our lives March 2003 when a vet' s assistant called me to say that a local professional football player wanted to surrender a couple of Sibes to SHRF. It was further stipulated that the two had to be adopted together. We informed them that SHRF would try to accommodate the request but could not guarantee that as a condition of their acceptance. We did not hear from her again until September 2003, when she called and said, "the dogs were going to the pound" if rescue would not take them. Rather than that happening, we agreed to accept them with the intent of placing them on the SHRF web site for adoption.

We took them to the SHRF volunteer veterinarian for a check-up and to neuter Troop. At that time it was determined that Troop had heartworms. Knowing SHRF had just spent a large sum of funds on three other rescue dogs, we had them treated at our expense.

When they first arrived at our home, it was obvious that they both had not been treated well. Lacey rolled over yelping when I attempted to step out of her leash that had wrapped around my legs; it appeared that she might have been kicked because she cowered anytime a foot was moved near her. Troop, on the other hand, was aggressive and snarled whenever I tried to touch him. After about 3 months, these behaviors gradually started to go away and they eventually became very sociable. During this time it also became quite clear that the two were extremely dependent on each other; that they could not, and should not, be separated so they became a permanent part of our family.

In late July. 2005, SHRF was asked if it would accept a three year old red and white Sibe, who was in the Duval County shelter. The shelter was severely overcrowded and forced to euthanize many animals during the summer due to the local Humane Society becoming a no kill shelter. On August 4, 2005, we began medically fostering Mischa and on December 27, 2005 we adopted him.

Then in October, 2009, Troop started developing cataracts and was nearly blind within a year. From that point on he rarely left our sides and Lacey became his Shepherd. As time went on he developed arthritis and finally on July 9, 2011, Troop crossed the Rainbow Bridge. Troop was sorely missed by all, but none more so than Lacey, his soul mate, who shared eleven and a half years of her life with him.

By mid 2013, Lacey began to show signs of arthritis, which only became worse as time passed and Mischa displayed initial signs of dementia in early May of 2014.

On July 27, 2014, Lacey crossed over the Rainbow Bridge and Mischa followed her soon after on October 31, 2014, after losing his last playmate.

Troop, Lacey and Mischa shall forever remain in our hearts. Bob and Marsha Flaige
Norville
July 2007 - July 16, 2014

Norville was picked up as a stray by animal services prior to coming to SHRF so little information was known about him. From his foster mom's observations, he had a rough go of it for rmost of his life, evident from his raggedy coat, a couple of missing teeth and being Heartworm positive.

It is with heavy hearts that we in SHRF had to help a suffering Norville cross the Rainbow Bridge after he was diagnosed with uncurable pancreatitis and severe intestinal issues.

In his short time with SHRF and in the loving care of his foster parents, Norville was shown the type of life he deserved to have. He loved running and playing, trying to keep up as best he could with his foster siblings. His foster mom gave him back rubs and yummy healthy treats that he enjoyed, even licking yogurt off a spoon.

Norville is in a better place now, amongst friends on the other side of the Rainbow Bridge, where poetically:

"No more do they suffer, in pain or in sadness, For here they are whole, their lives filled with gladness."

We shall miss you, Norville, all of us at Siberian Husky Rescue of Florida
Princess III
June 2007 - June 21, 2014

Beautiful little Princess peacefully passed over the Rainbow Bridge on June 21, 2014. She was a beautiful, healthy girl that was undeserving of her fate - an outcome that should never have happened and something she never deserved.

Princess, I am immensely sorry, your tragic end was never your fault. I will always remember your short time with me. We humans owe you an apology for what we did to you.

Bob
Kiko
November 2007 - May 19, 2014

Kiko was more than a dog to me, he was my friend, my companion, my son. I was very fortunate to have him in my life, everbody said that it was going to be difficult to have a Husky as a first dog but I didn't care, and even though he wasn't the perfect dog he was perfect to me.

His last weeks were very hard for all of us, especially him, with arthritis and dementia he didn't have a good quality of life during his last days. At least he went peacefully while he was sleeping.

He was, and will always be, a very special dog to me. There's not a single day that I don't think about him. He will always have a special place in my heart.

I love you buddy, and I'll see you again one day - Cesar
Sable
2000 - January 2014

Sable walked into our lives in 2003 from your wonderful group as a 3 year old bundle of energy joining the pack of Apache and Cookie. I cannot put in words all the years, all the memories, all the pure joy and love she brought to me and everyone she touched.

Sable passed on to a better place Thursday, January 30, 2014, with no suffering, knowing she was and always will be with us, as we with her. Sable appears on the right in the photo above, with her main man, Apache. I hope others who read this understand how much these creatures bring to our lives and how much they teach us; not the other way around. Give these rescue dogs a real home, adopt, for what they give can never, ever be measured. I know you are again running and free Sable.

"til we meet again.

Carlo and Apache
Sacha
7 December 2003 - 5 January 2014

I bought Sacha from a breeder for Search / Rescue (live find). We started in NJ and she was the only Siberian at the time, passing her qualification tests at 6 months.

The last five years she has worked for Manatee County Search / Rescue - her last year she was used for public relations. We are a volunteer search agency working for the County Sheriff's office. We are one of the few SAR groups that are a special team for EMS and Police. We are all cops, medics, fire fighters or emergency management that volunteer their time in all endangered missing persons cases.

I've owned many dogs but this was my first Husky and she has touched my heart like no other. She was more than a partner, she was my family.

"So others may live" She served the community well and from a PR standpoint kids loved the "Snow Dog".

J.Carosiello
Cassie
March 17, 2001 - December 10, 2013

Our beloved adopted friend, Cassie, crossed the Rainbow Bridge on December 10, 2013. She was a beautiful red 3 year old when we met her and fostered her in 2004. She was timid, heart worm positive, and part of the family the very first day. Of course the foster became an adoption. Our little girls were 7 and 12, and their bond was tremendous.

Over the last ten years Cassie has been a best friend to all four of us - playmate, pillow, confidante, walking buddy, ice-breaker, bus stop mascot, counter surfer, toy hoarder, and source of limitless love and loyalty. She ran zoomies, failed to fetch, tried to bolt out the door, dug holes, longed for squirrels, pouted, enchanted strangers, mothered a neighbor's puppy, and touched a large extended family. She ushered two kids through school and saw one tearfully leave her for college far away. No surprise, somehow the college chosen has a Husky as their mascot.

Cassie wasn't our first dog or our first Husky, but her life as an only pet here somehow magnifies our loss. Like most Huskies, it sometimes seemed as though she was more excited when she met a new person than she was to see us, but that was deceiving. The relationship she had with each member of our family was a powerful connection that none of us can ever forget. Our grief is raw, her favorite spots are empty, and each stray fur tuft is a fond reminder that we had our friend for ten years - and it was a true gift.

Thank you so much, SHRF, for allowing us to share those years with Cassie. If we are ever ready for another Husky, we will be coming your way.

The Snyder Family

MacKenzie
January 19, 1999 - November 24, 2013

This morning we had to send our beloved, elegant girl MacKenzie over the Rainbow Bridge. She was only a few weeks away from her fifteenth birthday but just too many things went wrong at the same time. She was getting confused of late, was losing her eyesight and hearing and today was the culmination of a few months of her back legs just slowly getting weaker and weaker to the point where she could no longer stand.

While MacKenzie was not our first Husky, she and her littermate sister, Zoe, were the first dogs we officially adopted from Siberian Husky Rescue of Florida. That was back in 2000. Zoe was SHRF # 2000-030 and Mackenzie was # 2000-031. At the time, we had intentions of adopting one more Husky but when we saw how inseparable they were we just had to take both. Zoe crossed the Rainbow Bridge back in November, 2008 and has been patiently awaiting her sister. Today they are together again.

We have lost three of our cherished Huskies in 2013 but, while heart wrenching; we will always treasure having had them in our lives.

We love you MacKenzie,

Bob, Lorraine, Chloe, Layka, Alley and Katia

Sean
2003 - October 30, 2013

Sean jumped over the rainbow bridge, October 30, 2013. He was 10 years old and the love of our life.

Sean was calm, compared to Husky standards, but that didn't mean he wasn't bolting out the door or stealing food when our heads were turned.

Our lives will not be the same without you, Sean. We miss you more than you know. Wherever you are, I hope someone is giving you a foot rub. I miss chasing you, half dressed, down the road. The hotdog in my hand never fooled you.

Love you!

Mommy, Daddy, Brittney, Jerrod, Aubriana and Shyanne

Jupiter
2000 - 2013

Back in 2002, we were trying to figure out the best way to handle our then one year old female Husky, Nikki. She was a bundle of non-stop energy, demanded a lot of attention and clearly needed some diversion.

Then we happened to see an article in our local newspaper about SHRF. The timing of that article was perfect, and offered the best solution, which was to get her a companion dog to play with. That led to our adopting the best dog we could have wished for, Jupiter. He was not only a beauty, but had a personality to match.

Jupiter and Nikki hit it off immediately; starting to play just as soon as they met. We all enjoyed many good years together. Jupiter especially liked vacations in the North Carolina mountains, where he could hike the trails on chilly mornings, channeling his inner sled dog!

Losing him this Summer has been very hard for us, and of course for his best pal, Nikki.

As a result of that newspaper introduction, we were not only able to have Jupiter in our lives, but also to become involved with a wonderful and dedicated group of people. These are the volunteers who, through a lot of hard work, keep SHRF going. This enables many of these beautiful creatures to find forever homes every year. Thank you to you all.

Kathy, Marv, and Nikki

Sierra
2004 - August 26, 2013

Today, August 26, 2013, we suffered the sudden loss of the youngest member of our pack, Sierra. She died quietly from some sort of gastric ulceration that had gone undetected. She acted normally at 7 AM on her first walk of the day and was gone before Noon.

We adopted Sierra from SHRF back in April of 2010 at an estimated age of six. She was a joy to have around, always happy, smiling, energetic, loving and very wacky.

Even though we only had her for a few short years, she has left an everlasting impression on our hearts and will not be forgotten.

Love always, dear Sierrra,

Bob, Lorraine, MacKenzie, Chloë , Layka, and Alley
Baron
June 2007 (est.) - August 23, 2013

Baron, we surprised ourselves when we fell in love with you almost as soon as we got you. You were so sweet and goofy, and you helped your Dad and me heal from the loss of our beloved Niko. You were our first foster, and we became the typical "foster failures" when we decided to adopt you just two weeks after we got you. We were shocked when you were diagnosed with a horrific cancer.

In less than two weeks you went from dancing for treats and playing with your stuffed animals to suffering so badly that with shattered hearts we decided to let you cross the Rainbow Bridge. We know you're no longer in pain, and we just hope you're waiting there for us.

It was an honor to take care of you, Baron Bear Cub. We hope you know how much your Momma and Daddy loved you!

Love always,

Sharon and Terry
Buddy
1999 - June 22, 2013

On June 22, 2013, I said goodbye to my dear sweet Buddy. He had been diagnosed with an inoperable tumor in his sinuses, and the Vet had told me I would know when it was time... I was blessed to have him with me for another three weeks after the diagnosis, but yesterday he began bleeding uncontrollably and crying, and when he looked at me I knew he was telling me.... It was time to perform that final act of love and help him cross that Rainbow Bridge.

I adopted Buddy from Siberian Husky Rescue of Florida almost 15 years ago. The very moment I saw his picture on the website, I knew he was destined to be mine. Or rather, I was destined to be his... Although incredibly large for a Husky, he was the sweetest, most gentle giant. He was also the most loving, goofiest and most spiritual four legged companion I have ever been blessed to walk this path in life with.

Thank you, me dear sweet Buddy Boo, for bringing me such joy and love for all these years. It will be a long time before my tears stop flowing every time I look toward your special spot, or before I stop hearing your silly woo woos. But I know you are no longer in pain, and that we will some day reunite on the other side of that Rainbow Bridge. Until then, my beautiful boy...

Stephanie
Princess
2001? - May 24, 2013

On Friday, May 24, 2013 our little Princess passed over the rainbow bridge. She was only with us for a short 21 months but made a lasting impression. We were never sure of her exact age but she had to be in the 12-14 range.

As volunteers with Siberian Husky Rescue of Florida, we picked her up in early September, 2011, along with another Husky, from the Sarasota Animal Control facility. We kept Princess as fosters but quickly wound up adopting her into our pack.

She was a sad case. She was blind in one eye due to cataracts that were never taken care of, was missing the outside toe of her right front paw, had a tumor the size of a small egg hanging from a long thin piece of skin under her belly and, overall, in rough shape. When you hugged her you could feel a couple of places where broken ribs had healed. We never knew if she might have been abused or maybe hit by a car.

Princess was initially quiet but as she grew to realize she was home, with people and Husky siblings that loved her, she became more comfortable and more vocal. So vocal in fact, that when she thought it was dinner time she wooed and wooed until she got fed. This actually resulted in the whole pack getting fed an hour earlier than usual until it became routine. She would start her wooing at almost exactly 4:00 PM daily and we still don' t know how she was so consistent in knowing what time it was.

Princess laid claim to a couple of spots in the house that became hers and hers alone. She was affectionate and constantly curling up next to her Daddy' s legs. She reveled in her belly rubs and just having his hands on her.

As sad as we feel at the moment we are grateful that we could make her last year and a half comfortable and loving.

We will not forget you Princess.

Bob, Lorraine, MacKenzie, Chloë , Layka, Alley and Sierra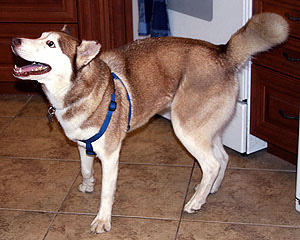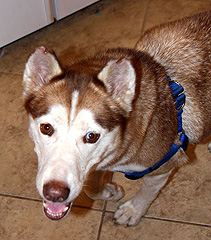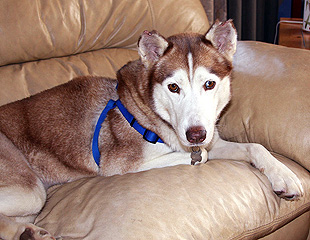 Sadie (formerly Sage)
November 2007 - April 2013
Sadie was approximately 5½ years old when she crossed the Rainbow Bridge. We had so little time together, only about seven months. Every minute was a treasure. She learned how to play, developed an obstacle course through the house and lanai and she loved her bones and toys. She would do ANYTHING for "cookies".

Everyone in the neighborhood knew Sadie and often stopped to say hello to her and give her lots of rubs. One time a little girl about eight or nine years old jumped off her bike to meet Sadie. When she realized that she was a rescue dog who had been neglected and abused (she saw and asked about her ragged ears where the tips had been eaten away by flies and bugs) she said, "I' m going to say prayers for Sadie". I was SO touched by that.

Sadie was my "GG" (my gorgeous/good/goofy girl). She knew that she was loved and she loved and trusted me in return. I truly believe that our other family Huskies were waiting for her on the other side of the Rainbow Bridge so they could run and play until the day when I hope to join them. Until then I will miss her, her woo-woos and howls and her wonderfully goofy ways. She will be "loved forever and a day".

Love always, Vicky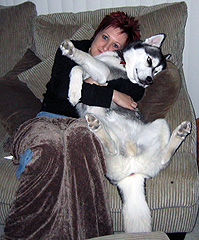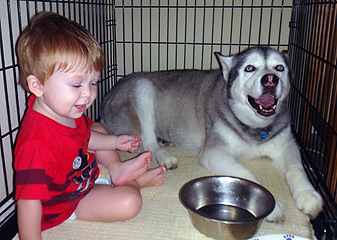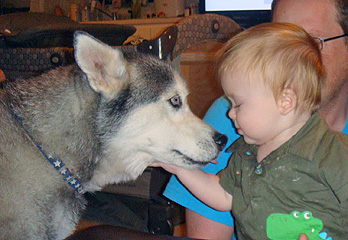 Cody
May 5, 2001 - March 3, 2013
After seeing your picture as a referral through Siberian Husky Rescue of Florida, we could see you were a beautiful dog with a naughty little twinkle in your eye.

You came to us in 2003, heartbroken that your first family gave you up but your new Rat Terrier sister, Gateway, loved you up and gave you kisses while helping to mend your broken heart (she had also been given up by her original family). You were such a loyal dog that it took time for you to get over the heartbreak.

You and Gateway became quite naughty together. We remember coming home and you had teamed up to ransack the pantry; she had figured out how to open the door and you were tall enough to clear the shelves she couldn' t reach. It was a carefully planned operation. It had been quite a party. You would do anything for mints and publix bakery bread. We would just have to touch the bag and you would come running. But you were always so gentle even when you were stealing food. Every time you heard us cleaning our teeth, you would shove the door open and appear in the bathroom for a chance to get some minty toothpaste.

In 2011, when our son Dylan came along, you were curious about him and enjoyed stealing food from him whenever you could. You used to love it when he would join you in your crate to play with you. You were always so patient with him, even when he would try and poke at you. You didn't care - you loved him. You always enjoyed being in your crate and when it was cool you enjoyed sitting outside in the yard in a hole you had dug in the shade. Sometimes, if you were outside and wanted to come in you would lick the glass door and make funny faces for us to laugh at. You always looked so silly. Dylan even started to copy you.

Sunday, March 3, 2013 you were sitting in your crate panting. We let you outside and you sat in your hole looking crumpled. You walked across the yard and didn't look right. We called the emergency vet and you even walked yourself to the car. We had no clue that less than ten minutes later you would pass away in the car on the way to the Vet. We are heartbroken. It was all so sudden. We never had the chance to say a proper goodbye.

We are devastated you left us so unexpectedly, Cody. The crate that made you feel safe and you loved to sit in now sits empty, your hole in the yard is just that. Every time we walked you, people would always comment how beautiful you were. You were a beautiful dog on the outside, but it was absolutely nothing in comparison to the beauty you held on the inside. There will never be another dog like you, Cody and we are so fortunate to have had you in our lives. We love and miss you.

Love always, Mummy, Daddy, Dylan, Gateway, Milo and Evie xxxxxx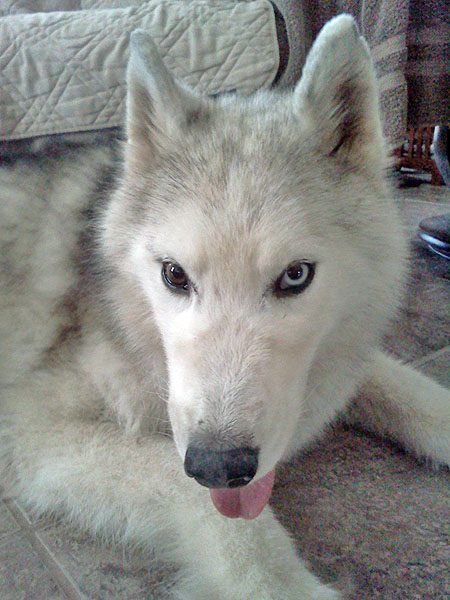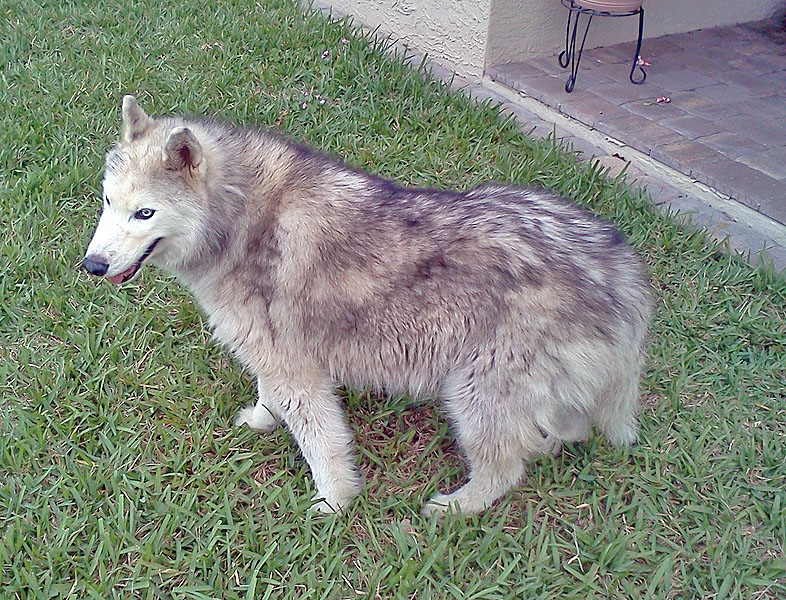 Mojo
2004 - March 2, 2013
Mojo was picked up by a shelter and unclaimed by his owner prior to coming into our rescue. He was a laid back, mellow boy, quite content spending time with his foster parents getting love and attention.

He would get excited when he had a chance to go out and about. You could almost see a smile on his face when he went for his walks.

Shortly after coming to SHRF, his initial Vet visit indicated he had a tumor on his paw that resulted in bone cancer. Unfortunately it was a mass cell lymphoma and the cancer had already spread to other parts of his body. In just a few short days we saw signs of his body starting to shut down. Not wanting him to be in any pain, we and our Vet felt it was best to put him at rest and let him join many new friends across the Rainbow Bridge.

He was such a sweet boy and wanted nothing more than love and attention. While in his foster home you could see that he was happy and content. Even though he was with us for a very short time, in his last moments of life he knew he was loved and with people that cared about him. This was one of those sad and untimely situations that occasionally beset our rescue because if it wasn' t for the cancer he would have had several more years to live a happy life.

Siberian Husky Rescue of Florida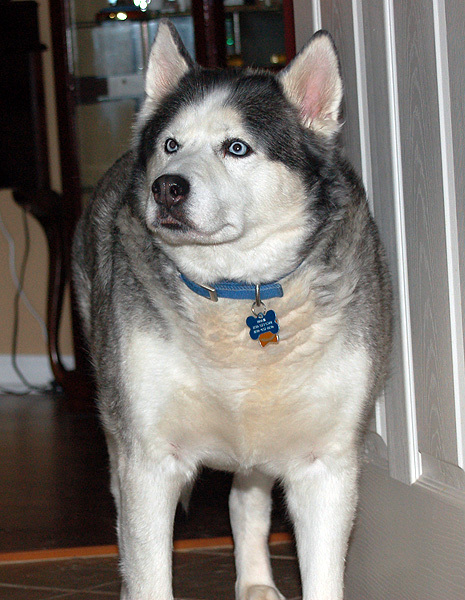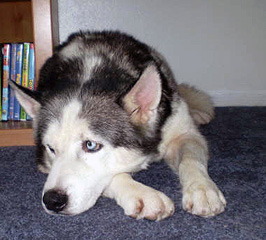 Noah
2002 - 2012
My dear sweet Lil Noah ... letting you cross the Rainbow Bridge was one of the hardest things we ever had to do. We still remember the first day you came into our lives. I fell in love with you at first glance and our love just grew even more from there.

We hated it, Noah that, for whatever reason, you lost your first family - but, were so happy that you came into ours. Noah, you made us laugh so many times and the way you looked at us with those big blue eyes got you anything you wanted.

Four years was not long enough to have you, we wanted to keep you forever. After all, you were our lil Noah. I hope you knew just how much you were loved, but I'm glad you'll never know how much you're missed. Run fast lil Noah, with no more pain and know that you will forever live on in our hearts and will always be our "lil Noah". I hope it gets easier when I think of you lil buddy.

Love and miss you so much, Mommy, Daddy, and Nini and Bridget.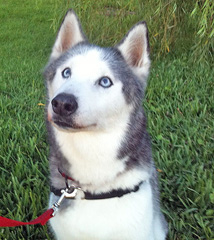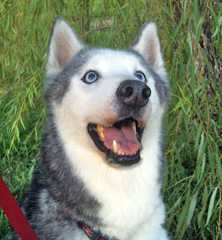 Tobbler
May 2008 - July 23, 2012
Tobbler crossed over the Rainbow Bridge on Monday, July 23, 2012. As often as we here at SHRF deal with losing one of our Huskies to the natural course of events of life itself, we are never prepared for the vicissitudes and sometimes unjustness of nature.

This sweet and gentle young-adult boy came to us in mid May, 2011. We estimated his age at approximately 3 years. He was under-weight with heartworms and a few decayed teeth that had to be extracted, along with a small benign growth on his foot that had to be removed. After struggling for months with the paw not healing properly, Tobbler had additional surgery which uncovered an aggressive cancer. Unfortunately, this was not treatable and all we could do was ensure he was comfortable and happy for the remaining time that he had.

Tobbler's foster parents took excellent care of him and are sorry to have to let him go without a true chance at life. He was a wonderful boy who is now in a better place.

Siberian Husky Rescue of Florida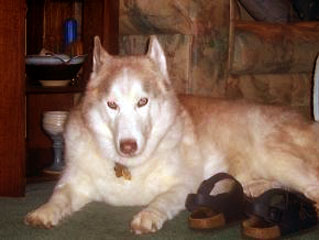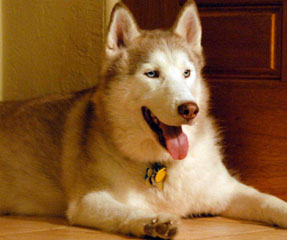 Cass
Unknown - June 2012
Cass came to me as a heartworm dog so sick and thin that I didn't think he'd survive the treatment. He also had every kind of intestinal worms, infected ears, sores all over his body, foot pads worn to near bleeding, and he was limping.

He healed and became a beautiful dog, but the limp was what took him from me. He had hip dysplasia that worsened gradually, then suddenly went into complete breakdown and spinal failure.

We never knew his age, but I only had him for less than 5 years. He was the gentlest dog I have ever known and an omega. Moose loved him dearly from the moment he arrived and they were inseparable; they were never more than a few feet apart. He was a digger and loved to play in water. And I loved him completely.

I will miss him always.

Diane S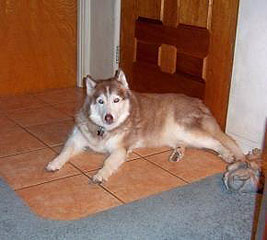 Tiger
Spring 1998 - Fall 2011
I always used to say that I was Cass's and Moose's mother but that Tiger was MY mother. She came to me half-grown at 28 pounds, tiny and undernourished, and turned into a dynamic ball of energy at 45 pounds.

She was the boss and into everything; everything was her business (even when it wasn't). She ruled her dogs (and me) with an iron paw. She was one of the most intelligent dogs I've ever lived with. And I loved and depended on her.

She died at 13½ after 6 months of being very senile and with very bizarre behavior. One day she lay down in the kitchen and could not get up and I knew it was time to put her down.

I will always miss her.

Diane S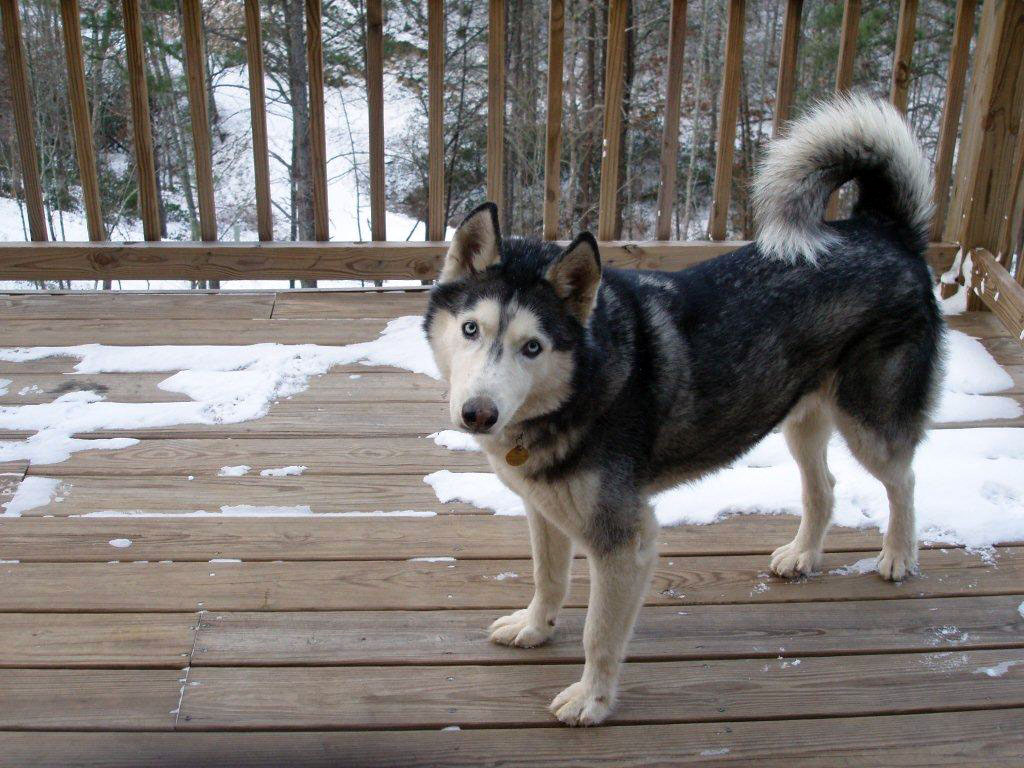 Sascha Evans
May 1999 - January 2012
In memory of our sweet Sascha...our Alpha girl..... Crossed over the rainbow bridge at 12 years and 8 months.

We have walked so many miles together over the years....hiked up mountains and swam lakes in North Carolina, with Kodiak, Juneau and Rudi.

Mom and Dad miss your sweet presence. You were our first blue eyed Husky girl and we knew we had to love and spoil you for the short time we had you in our lives.

Run free with Kiska, Chinook and Mocha

Love you forever, Janet and Tony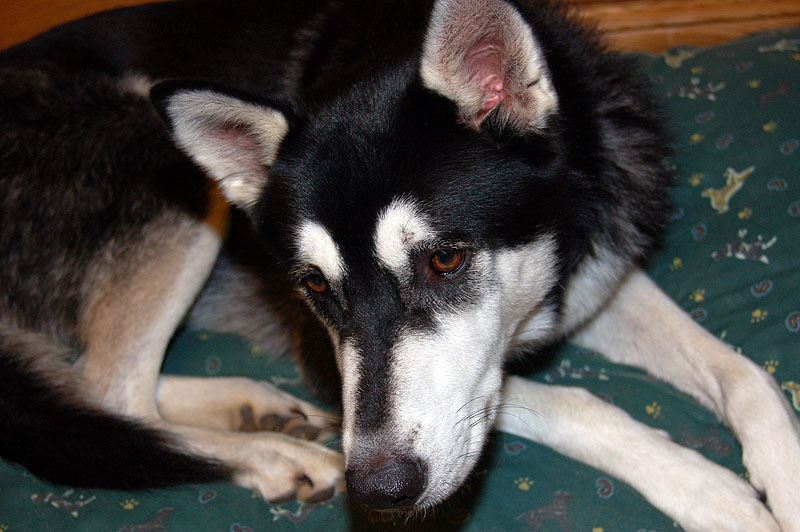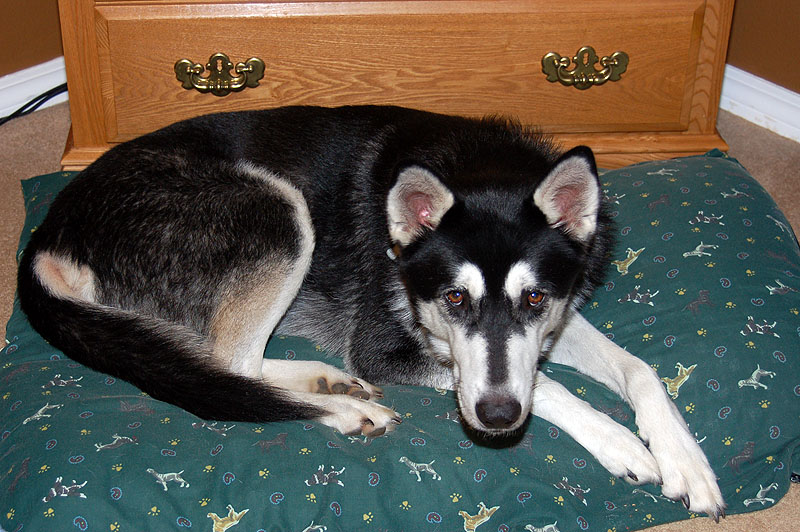 Teeko
2005 - December 20, 2011
Teeko was a gentle giant. He came to us as a foster in 2010. He was just hours away from being put to sleep. His previous family had been notified and they never showed up to claim him. We saved him, brought him home and started looking for his forever home. Little did we know at the time that he was already there, though I think he knew from the time he walked through our door.

After 6 months of no takers we decided that there was no way we could ever let go of him so we made it official. We only had a year and a half with him as he passed away from cancer at just 6 years old. Teeko was truly one of a kind with his size, his gentle, loving demeanor and his soulful brown eyes.

Missed and loved forever,

John, Belva, Nini and Noah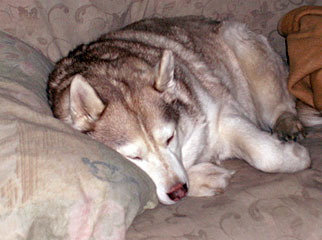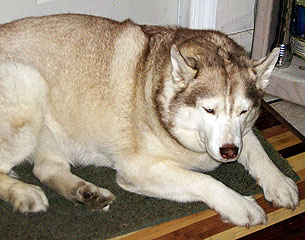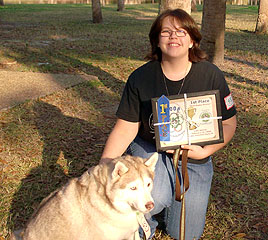 Kasha
2001 - October 10, 2011
The eight years Kasha spent with us were the best of our lives. She was our little girl. After she lost her partner Thor, in March 2011, it was very hard on her but she did still have her little Lokie. Missing Thor eventually took a toll on her.

Her Mommy and Daddy will miss her very much. She was a light in our life that will never go out.

Mike, Desiree and Megan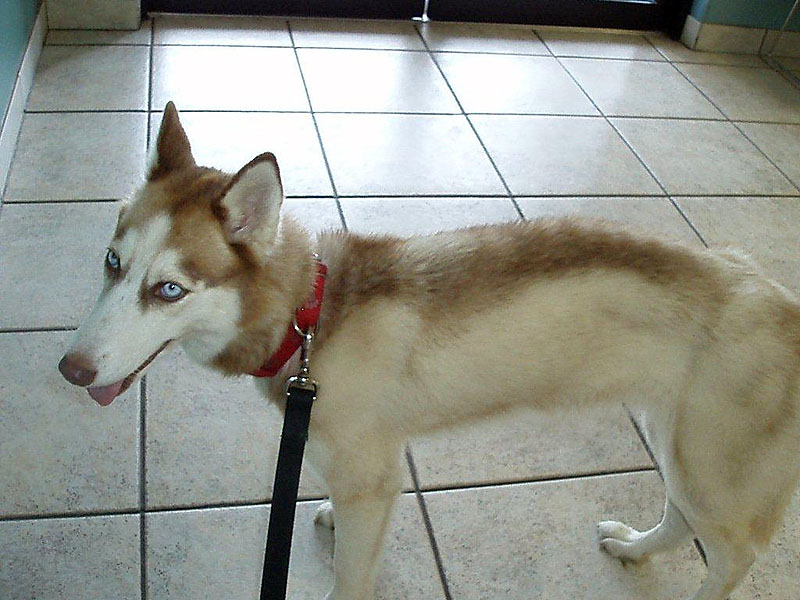 Sky
October 2010 - October 10, 2011
On October 6, 2011 Siberian Husky Rescue of Florida picked up this beautiful puppy girl from a county shelter. She was severely underweight, emaciated and in ill health overall. Upon taking her to a Veterinarian it was determined that there was a large mass in her abdomen. Exploratory surgery revealed a severe invasive disease of her entire large colon and the presence of heartworms. The prognosis was that she would not recover from these and the malnourishment so the Vet recommended she be euthanized while under anesthetic.

It is always painful when one of our beloved Huskies crosses over the Rainbow Bridge but it is especially so when it is one this young who never had a chance at life.

As short a time as you had with us, Sky, you will be missed by all of us at Husky Rescue.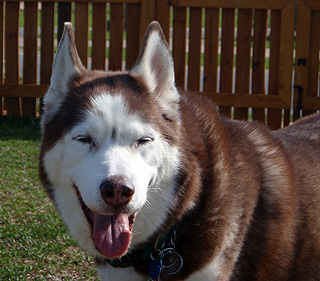 Dallas
November 1994 - June 2011
Dallas entered our lives from rescue in Feb. 2009, and crossed the Rainbow Bridge June 2011.

When I saw your picture and read your story it broke my heart ... we knew we could bring you into our lives and love you with all our hearts all the while knowing we may not have much time with you ... but, little did we know how much more love we would get in return. You were always there in the window watching our every move ... and never failed to greet us and everyone at the door. We're going to miss how you washed the floors every time you got a drink ... and how you would nibble from all the food dishes, just to make sure it was all the same ... all while leaving a trail of food from dish to dish. So many times you made us laugh Dallas and we will cherish those memories forever ... So run fast and free Dallas ... with no more aches and pain ... and remember that you will always be loved.

Greatly missed by: John, Belva, Nini, Noah, and Teeko.
This was Athena's last play as about 5 hours later she was rushed to the emergency hospital due to inexplicable cries of pain and inability to lay down. She went to the Rainbow Bridge around 1:30 AM Feb 10, 2011, after it was determined that medical procedures would not maintain a quality life. Grief rains heavy on our hearts as she was such a sweet girl and, like a gentle old soul, she was such a comfort to her human companions. Her sudden departure makes it ever so hard to accept, but thankfully, she is no longer in pain. Rest comfortably now, my canine friend.

Athena
2001 - February 2011

With one eye energetic blue and the other soulful brown, Athena lived up to her diverse characteristics. Her foster mom described her as "one of the sweetest dogs I've ever known" and indeed, she was the favorite dog in the neighborhood with her loving disposition and relaxed demeanor.

Even as a senior dog, at about 9 years old, she enjoyed her thrice-daily walks, an occasional adventure (like the time she got 'arrested'), and a hide-and-seek game. She never turned down a squeaky toy or a belly rub and she offered the inevitable canine comfort when her humans were in need. Though she struggled with some health issues, she handled them like a trooper and thankfully did not appear to suffer long at the end of her earthly time.

Athena touched my life daily for almost two years and left way too suddenly, but her spirit is still evident. My 'crazy-eyed' girl will be sorely missed, but she left good memories. Hugs and a treat, Athena.

Love, Marie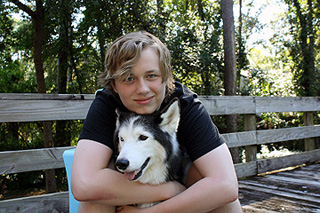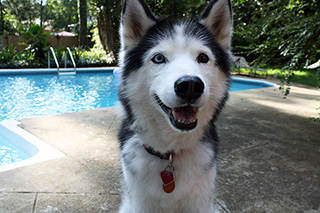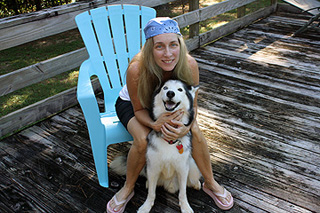 Apollo
Adopted 2002 - Died December 29, 2010
We adopted Apollo, (originally Dozer, rescue number 79), in April of 2002. He passed away December, 29th 2010.

Though our hearts are broken we will be forever grateful to Siberian Husky Rescue of Florida for finding our precious boy, Apollo. Apollo was the most special dog. The minute he met my son he tackled him and covered him in kisses. When he met my girl dog, Rosie, it was as if they had been together forever. She refused to board at the vet unless she could sleep with her brother.

Apollo was so laid back - some dogs are Alpha dogs, some are Beta dogs but Apollo was the Omega. He was THE sweetest dog ever. Several friends have children who were afraid of dogs but Apollo helped them overcome their fears. He always picked out the most timid child, then he would walk over and gently put his head in their lap - then slowly his paws; one at a time, until almost all 50 pounds of him was sitting in their lap. He never cried, he never barked but he would talk - only to me and my son - but he did talk.

Apollo died of lymphoma. Even to the end he never complained. I sat with him through the night and he would not let me leave his side, nor could I bear to. Thank you for this most special gift. We appreciate all that you do.

Margaret, Griffin and Rosie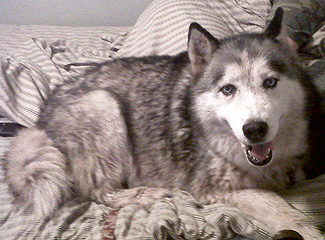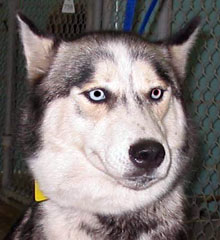 Zoe II
2001 - 2010
Zoe II was a Siberian Husky Rescue of Florida adoptee in 2003. She had a reasonably good life until her mistress died in 2007 but it went sadly downhill from there and she died of Heartworm just before Christmas of 2010. She was loyal, affectionate and deserved better.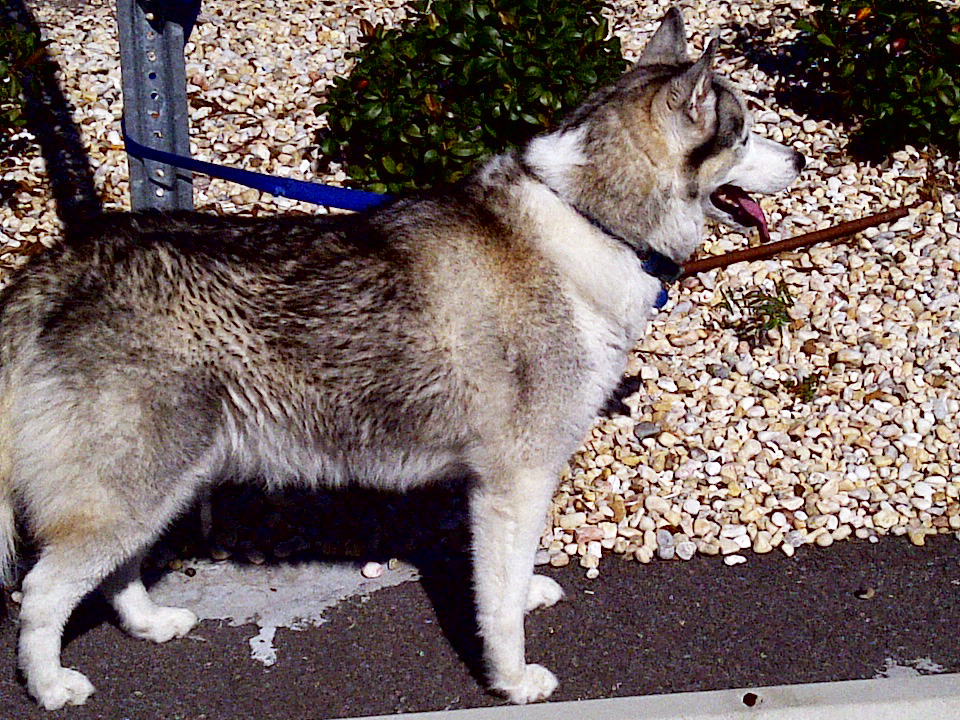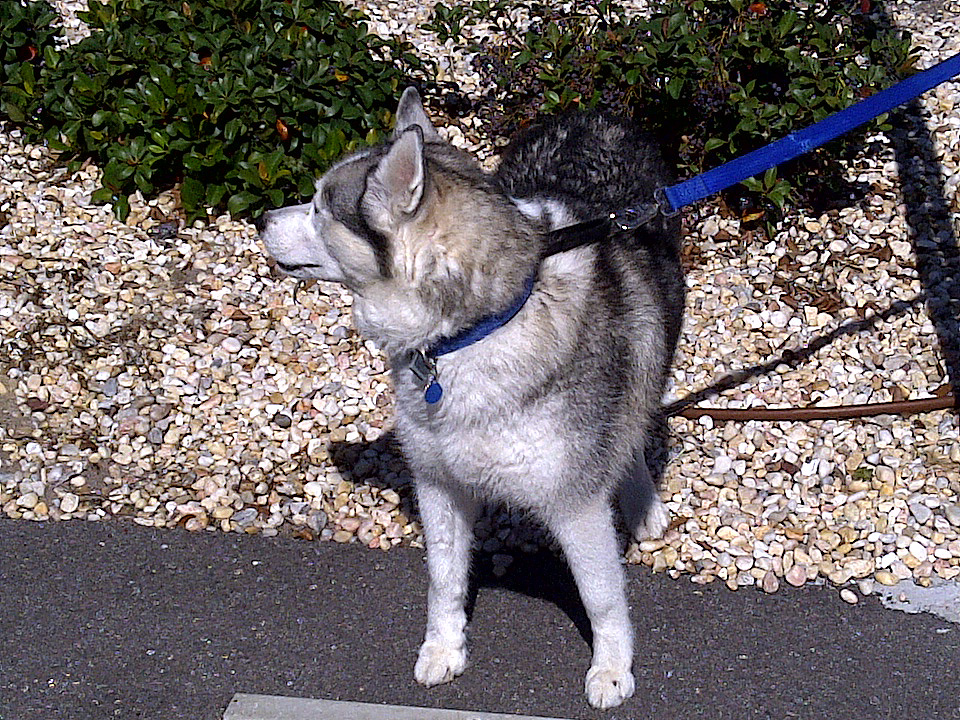 Sapphire
Born October 2000 - Died November, 2010
Beautiful little Sapphire peacefully passed over the Rainbow Bridge on November 18, 2010. She was a beautiful, healthy senior girl that was undeserving of her fate - an outcome that should never have happened and something she never deserved.

Sapphire, I am immensely sorry, your tragic end was never your fault. I will always remember your short time with me.

Bob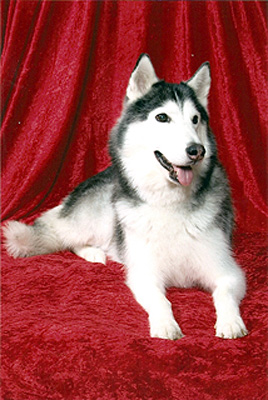 Skeeter
Adopted May 2000 - Died October 11, 2010
Our precious Husky boy, Skeeter, crossed over the Rainbow Bridge on October 11, 2010 at the age of 12½.

Skeeter was one of the first dogs rescued by SHRF, and we adopted him from SHRF after fostering him for a couple months. He was the sweetest, most precious dog we have ever known

He had a special bond with us and was our constant companion. He wanted nothing more than to be loved and touched by his humans. We loved him very much.

Skeeter was a beautiful boy, with very expressive brown eyes and a sweet, loveable face. His crazy antics gave us lots of laughs, and having Skeeter in our lives made every day special. Everybody who met him loved him.

We loved and treasured Skeeter and are so thankful for the years that he spent with us. He has a very special place in our hearts and will never be forgotten. His Husky brother Meisha and I miss him terribly, and we hope to be reunited with our sweet little guy again across the Rainbow Bridge.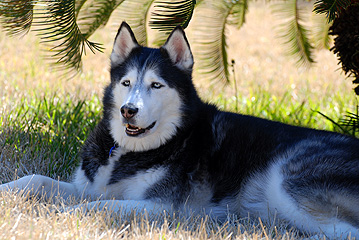 Tayo
Rescued November 17, 2005 – July 19, 2010
Our beloved Tayo suddenly became ill and left us only a few weeks ago around the age of 10 or 11. We found out afterwards he had liver cancer. So I guess for that we are grateful that it was fast and he did not suffer; however, it doesn't help with the emptiness we feel in our home. I'm sure in time our wonderful memories will fill in the void, but for now we are devastated to have lost the joy of our lives.

We adopted Tayo through Siberian Husky Rescue of Florida just before Thanksgiving, 2005, and are truly thankful he came into our lives. He was a most handsome, lovable, boy and very unhusky-like! He leaned on us constantly wanting to be petted and hugged on. He loved to snuggle, and had three beds in the house because he always wanted to be where we were. He was often my solace and I would just lay on the floor with my arm around him close to me. Even outside he never ran. With an open door, he would wait for us say it was okay to cross the threshold, just lay in the grass while we worked in the yard, and walk with us to get the mail. He loved his walks most of all and would get all excited just when we put on our shoes or grabbed his leash. And I'll never be able to eat a baby carrot without thinking of him. We used them as his treats and he would nose his way into the refrigerator every time it opened to con us into giving him one.

We both travel for our jobs and therefore Tayo had a wonderful extended family too. He loved everyone who came into his life and I know he brightened all of theirs as well. We are the ones really rescued by him. He will be missed terribly by all.

Tayo, we love you buddy!
Jerry and Lisa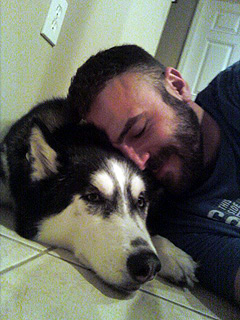 Max
May 5, 2003 - June 27, 2010
We recently lost our Siberian Husky "Max" to cancer. He had just recently turned seven. In September 2009 a tiny tumor emerged on his snout we thought was an ingrown hair. Unfortunately, tests proved it to be a malignant mass cell tumor.

After two surgeries and three rounds of chemo Max' s cancer came back with a vengeance. It consumed him in a matter of days.

Max was the joy of our lives and our hearts are broken. We took him wherever we could in the public such as pet friendly stores, beaches, car rides, quick errands in cool weather or with the AC blasting when it was hot. He even made the cross country move with us to Tampa.

He is sorely missed. Not a day goes by that we don't think of him or cry for him. There is a huge emptiness in our lives that unfortunately only time can heal. We understand he is no longer in pain and we did all we possibly could for him.

James and Scott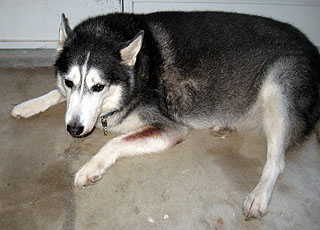 Thor
Birthdate unkown - December 4, 2009
We adopted Thor from the Sarasota Humane Society December 4, 2000 and he gave us the joy of his company for nine years. A month after adopting Thor, in January, we adopted Sara, our girl who just passed over the rainbow bridge in July. Her memorial is below.

Thor was an owner turn in at 2 ½, his owners "couldn' t handle him anymore". He did have his own personality and loved to paw out books from the bottom shelf of the book case and proceed to tear them up. He was smart and loving. It took him over two years with us before he wagged his tail.

He passed suddenly - he was sick about 5 days. He was so bad we had made an appointment to have him put to rest but instead he took matters in his own paws and passed over the rainbow bridge at 8:10 AM. He is now with Sara, his mate and friend, running and jumping we are sure. We love them so much. They are sadly missed.

Mommy, Daddy, Chucki and Chewy (aka Miracle)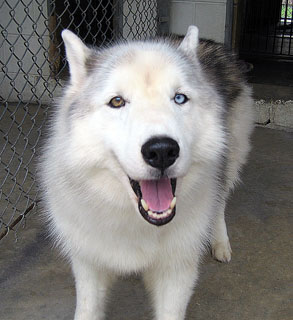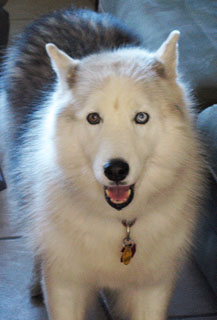 Chyanne
October, 2009
In October, 2009 we lost our beautful girl Chyanne. She was only supposed to be a foster for our family but we quickly fell in love with her. Although we only had Chyanne for over a year, she fit our family so well it seemed like she was with us forever. Because she was a gentle dog she ended up coming to school with me. My class quickly fell in love and Chyanne loved the children. She is missed every day. We take comfort in the fact that she spent her last day on earth in our classroom surrounded by infinite love.

Here is what some of the children said about Chyanne:
Chyanne was a very sweet dog.
She was a beautiful husky.
Her life got better when she was adopted.
She had a happy life.
I was very sad when she passed away.
Chyanne will be missed, but we will always remember her.
Chyanne was a very special dog to me.
She was sweet, cute, nice and innocent dog.
She was very loyal to a lot of people.
Chyanne is a great dog in heaven.
I love you Chyanne!
I miss Chyanne very much.
She was the dog with the most hair I have ever seen.
She was very sweet.
You will be in our hearts forever!

Love, Mom, Dad, Jordan, Sadie, Tundra, Xena and your classmates at PHMA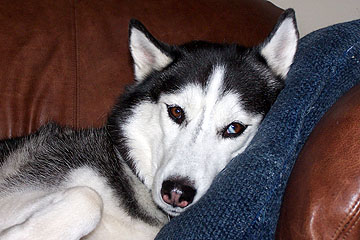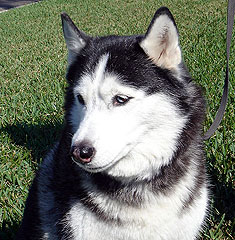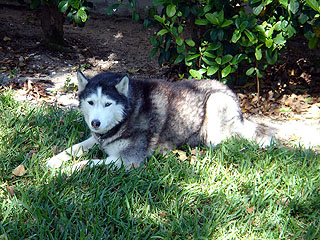 Zoë
January 19, 1999 - November 5, 2009
On Thursday, November 5, 2009, our spunky Siberian Husky girl Zoë passed over the rainbow bridge, still two months shy of her 11th birthday. She had undergone two back to back surgeries for a tumor on her liver and just didn't have enough energy to complete the journey.

She, along with her littermate sister MacKenzie, was one of the foundation Huskies in what has become our pack - a group that includes her two humans and, at any one time, three to four other rescued Siberian Huskies.

Zoë was our wonderful "snow nosed" girl, always full of life and free with her face licks and kisses, which earned her the reputation of being a "Professional Pet". Her energy and affection will be sorely missed by those of us who remain.

We'll meet again, Zoë. We'll always love you.C

Bob, Lorraine, MacKenzie, Chloë, Layka and Alley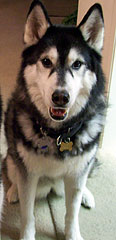 Pocahontas
2001 - October 2009
We just lost Poca, our 8 year old Siberian Husky girl, who unfortunately left us suddenly and unexpectedly. She will be sorely missed, especially by her adopted brother, as we called him. They came from 2 different rescues at about the same time, but got along famously.

She was with us only 2 short years, yet brought immense joy to our lives and we returned that joy with just as much love and a good home for the brief time she spent with us.

It was a blessing to share even a short time with a dog that had such a wonderful personality.

The Hanna family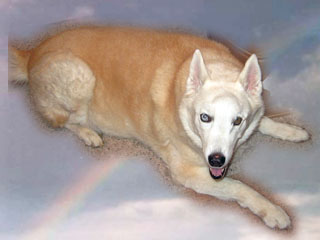 Sara
Birth Unknown - July 2009
We don' t know when Sara' s birthday was as she came to us after trying several homes and being found running loose. We got her January 2001, as company for Thor, and she was a joy and blessing to our family since the day we got her.

After that she was mother to both Chukchi and Chewy aka Miracle.

She was the mouth of the family and up until the day she passed, July 15, 2009, at 8AM, she was the most sweet, loving girl anyone could ask for. She was diagnoised last year with a malignant sinus tumor.

You are sadly missed Miss Sara. You are in our hearts forever.

Mommy, Daddy, Thor, Chukchi and Chewy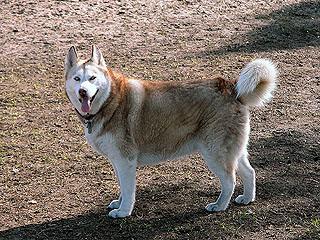 Sasha
November 1997 - January 2009
On Thursday, January 22, 2009 we said goodbye to our brave and beautiful Sasha. She was just over 11 years old and gave us her unquestioning loyalty from the time she was a pup.

She was notably brave because of how she weathered the many health tribulations in her life, from bilateral ectopic surgery and spaying when she was young, artificial ligaments being installed in each of her rear legs over a span of two years, an endoscopic exam, and a lifetime on daily medication. She was always the trooper and trusted us for everything that was done to her.

She went for her usual morning walk with her four pack mates, wrestled with her best pal Layka as she usually did, came inside, went and laid down at the foot of the bed, let out a brief, plaintive howl and quickly passed over the Rainbow Bridge. We will always miss her and she will not ever be forgotten.
Bob, Lorraine, Zoë, MacKenzie, Chloë and Layka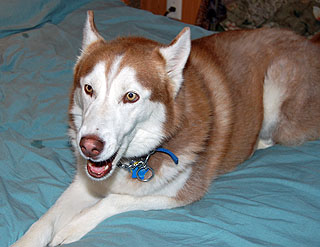 Harlee
5/31/02 - 7/18/08
When we found you at Sleddog Rescue you were a sad sight. Eaten up with fleas, dirty and fearful. We brought you home and nursed you back to the beautiful dog that you were. There was never a more loving and faithful companion than our Harlee dog. Always there to greet us and love us. We will always remember the good times that we had with you. We only had the pleasure of your company for 4 short years. You left far too soon Harlee but we will never ever forget you. We love you.

John & Belva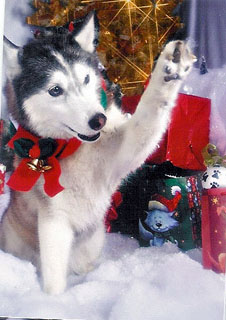 Savannah Jane Wright
12/25/1994 - 06/10/2008
Our little Christmas gift from 13 1/2 years ago unexpectedly crossed the Rainbow Bridge. She will be sorely missed.

Mom, Dad and sister Sibe, Minka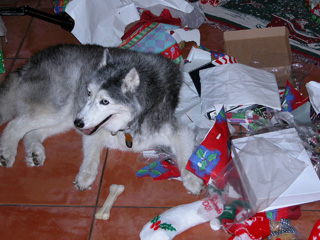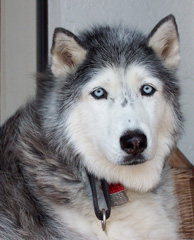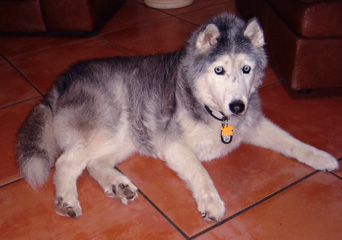 Nikita
1991 - 2008
We said a final goodbye to our beloved Nikita (Nikki) after over fifteen years of unfailing loyalty and companionship.

She was a two-year-old pup when we adopted her and she never lost her spunk and strength of mind. We will miss her greatly and will always keep a place for her in our hearts.

Bob, Lorraine, and the Apollo Pack; Sasha, MacKenzie, Zoë, Chloë and Layka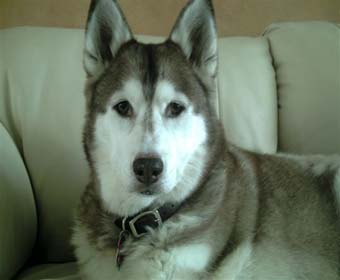 Cheyanne Nov 26, 1996 - July 1, 2007
I watch you walk down the path to the fields of green and the brilliant colors, where your pain will no longer be...the tears weld up...but I will not cry for you...for you taught me strength and unconditional love...but I will not cry for you...you were there to guide me and made everything alright...but I will not cry for you...you are my one..my girl, my child, my all ...I will see you again, and together we will be one.....I will cry for us.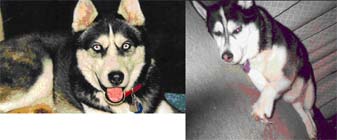 Yukon Zack (aka Zacky) & Dakota
It was on the 27th day of July, in the year 2006 that Zacky went gently into the night across Rainbow Bridge. You left a bigger hole in my heart then in the back yard. Why do the ones we love the most leave us so soon.


It was the 22nd day of November in the year 2006, Dakota went gently into the night and crossed Rainbow Bridge. Dakota was our first Siberian Husky rescue, our sweet painted face Husky with a striking "lightning bolt" on the top of her head. You are free now, I know you are with Zacky, running free North of Rainbow Bridge, run like the wind my pack, daddy will be with you and Zacky someday

Sadly missed by his ""Mommy and Daddy", Dakota, Sailor and Grandpa.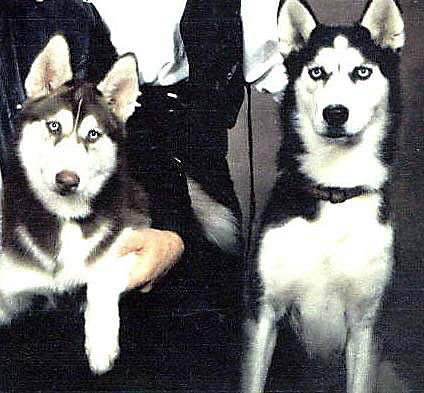 In loving memory of Starr and Ice
Starr was 16 when she passed on in April and Ice, her companion for almost her entire life would have been 16 in August but his heart was so broken that he only lasted three weeks without Starr.

They were a huge part of our lives for so long, and have left such a hole in our hearts that will never be filled... words can' t express the appreciation for all the love and joy they gave us. Sorry, Starr, but can openers won' t work on heaven turtles either! It' s hard to even try to express in words what the two of them have meant to us and the love they brought to our lives. If love could have saved them they would have lived forever!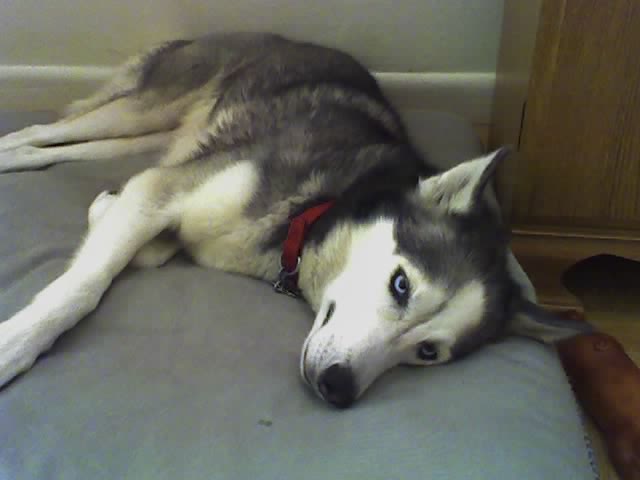 In loving memory of Meesha: June 26, 1998 - June 28, 2006
Farewell Little Girl, you will forever hold a special place in our hearts. You gave us eight wonderful years of joy and silliness. And for that, our family has been truly blessed. We love you little Rooky Roo!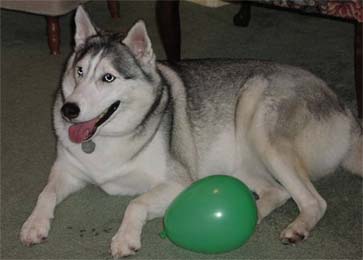 SKYE - R.I.P.
I am very sad to tell you all that my loving Husky, Skye, has passed away on May 23rd. I leashed Skye and got my bike for our daily bike ride. We rode two blocks and I thought she tripped and fell, but she was in a seizure or her heart had stopped. She fell to the ground and was trembling with her tongue hanging out. A neighbor and I tried to perform CPR but I think she was too far gone. Soon there was no breathe or heartbeat. She was just 5½ years old I have never had a better dog and I will miss her every minute. I hope she leaves each of you with great memories like she has left me. With all my love to the best dog I have ever had.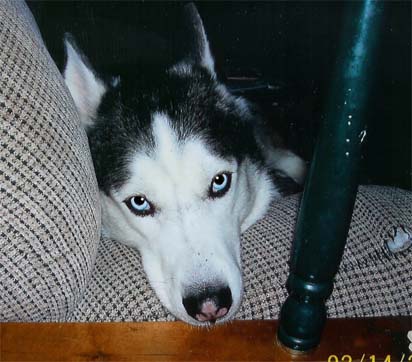 Juneau
May 2006
The love of our lives....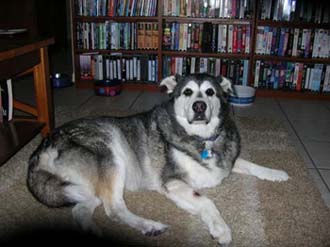 Rosey, a.k.a. Cherokee Rose Parker, found us in early 1992. She was a stray husky-whatever mix puppy who was brought to our door, not once, but twice by well-meaning neighbors who thought she was one of our dogs. Bandit and Bear, another husky-mix and a full-blooded malamute, were already running our house as they had for the past 12 years. The second time Rosey was brought to us, the man who had her on a leash said – this dog belongs with you and you can come get her at our house. Well, Bill took one look at Rosey later that day and said, yeah – we'll take her.

Boy, was she ever rambunctious! Old Bandit and Bear were at their wits' end with this energetic newcomer. We finally decided that Rosey would need to become a kennel dweller when we weren't able to supervise her directly and she moved into her kennel box and made herself at home. Nobody, but nobody was allowed to get in her "box" and she was quick to let anybody who tried know that! When we were at home and she was out and about, she picked a spot on the end of the sofa in the family room that allowed her to see out the front windows and out the back sliding glass doors with just a turn of the head so she could supervise the property. That was her spot and she'd fuss at anybody who dared to sit there. Miss Rose took ownership of our hearts, our home, our yard and the airspace above it from day one. She knew when something was different or out of place and let us know. Any airplanes that flew within her sight range were barked at immediately and "chased off". She'd strut around as if to say "there, that'll teach them to violate MY airspace". Fourth of July was her favorite holiday. As the neighborhood displays lit up the sky, Rosey would chase them, jumping up as high as she could to bark at the sparkling fireworks.

Rosey was an alpha by birth, no doubt about it. She was the queen of our home, undisputed. After Bandit & Bear's passing late in 1992, loveable mutt Lady joined our home, followed soon by Jackson, a full bred husky. They had no problem submitting to Rosey's reign; it was simply not something to be questioned. Rosey was still the queen when we lost Lady to squamous cell cancer and Jackie a couple of years later, also to cancer, canine leukemia. She continued ruling the roost over Petey, Rocky and Timber, all younger by at least a decade, but all respectful of Miss Rose. Rocky and Timber would not even walk past her without permission, either from the queen herself or from one of us "human subjects".

Of all our 4 legged babies, Rosey was the one who loved to be brushed and fussed over. It was as if she knew she was a pretty girl and she liked being the center of attention. She was a love and a big-time Daddy's Girl.

Bandit, Bear, Lady and Jackie met her at the end of the Rainbow Bridge on October 19, 2005. The 5 of them, along with Heather the Irish Setter, are running, jumping, playing and dining on sirloin steaks cooked to perfection in Heaven today. Don't ask me how, but I just know it. I also know that Rosey is probably the Alpha Dog there, too!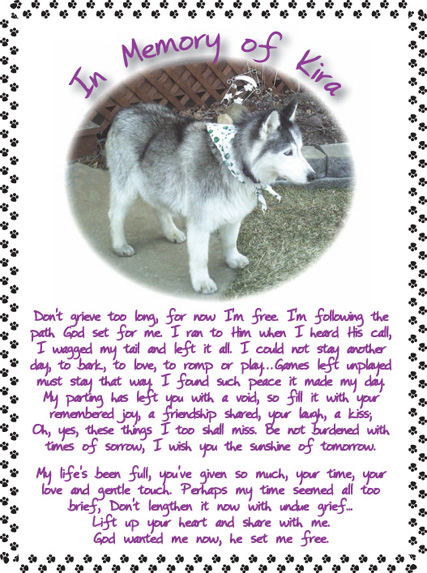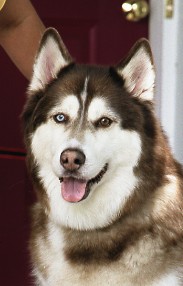 In Memory of Kavik
January 31, 1992 - June 16, 2005

I remember as if it were yesterday when your foster mom led you out to meet us. You were scruffy, dirty red and white and you walked briskly toward us as if to say, "Here I am, what took you so long?" There was a young black and white female at your side. She' d brought her along as if I had choice as to which of you I' d adopt. But, our eyes met and I knew there would be no other. You were the one! I don' t think you ever looked back as you leapt up into the truck to drive home with us. I thought I was the one doing the rescuing, but you rescued me right back -- becoming a loyal, stedfast and loving companion who took care of us just as well as we cared for you. We had lots of fun together over the years, and you traveled many a mile with us, loving everyone you met along the way. You are such a gentle spirit and I know you live on, free of pain, indignity and suffering. My world which was forever changed because you came into it, is forever changed again now that you' ve left me behind. We hope you' ll be there to greet us at the rainbow bridge, wagging and beckoning us to follow you as if we' d never been parted. We miss you terribly, think of you often and will remember you always with love. C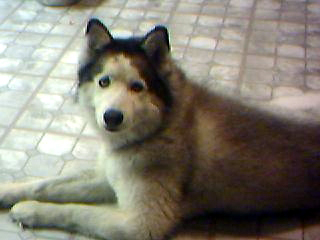 This is Sterling. He was 6 years old. Today I put him to rest. He had a malignant malicious carcinoma that started in his nasal area only two months ago. I brought him to the vet thinking he had a cold. I am now devastated as you can imagine but I have been preparing myself for today for a month.

We rescued Sterling, so to speak. Sterling had gotten loose when he was about one and went swimming in a retention pond. He wanted to play with an alligator but the alligator wasn't in the mood and Sterling lost a back leg. A neighbor found Sterling and took him to a vet and he was as good as new minus something he seemed to not be too bothered missing. The owners wouldn't pay the vet bill so the lady who found him paid the bills and took him in. She was also my wife's boss and my wife had mentioned that I always wanted a husky so her boss asked if she would take Sterling and he was given to me five years ago as a wedding anniversary present. He and I were best friend's. And he still loved to swim and when you looked at Sterling he had that personality that most people didn't even know he was missing a leg until you told them. He was special indeed. As most of you out there with huskies's will say the same.

Now my friend is gone and he will be missed. As I hold his collar and tags in my hands with tears in my eyes, I am comforted with his fantastic memories. And I want to thank his vets at All Pets Hospital in New Port Richey and the staff there for being sensitive and caring and they are highly recommended by my family.

As for Sterling….. He is smiling as I see him running past me with the wind looking for that pond to go swimming in J Thank you buddy…I love you. Have fun in heaven.