Seminole County Shelters
Seminole County Animal Services. 232 Bush Blvd, Sanford, FL. 32773 (In Sanford directly across from Flea World) Phone: 407- 665-5201. Adoption Viewing Hours: Monday thru Friday 10AM-5:30PM and Saturday 10AM-3:30PM. Adoption Fee: $65. Includes the first set of vaccines (NOT including rabies) and a dose of dewormer and an occult heartworm test. $60 of that adoption fee goes toward a certificate that we will give you to help offset the cost of having the animal sterilized.
-----------------------------------------------

-----------------------------------------------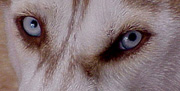 Can you look into these eyes and not want to help?
© SHRF, Inc. COPYRIGHT 2006 ALL RIGHTS RESERVED

FOSTER ALERT!
We are in desperate need of Foster homes to help save more Siberians from neglect, abuse, abandonment and illness. We can not save these precious fur balls without your help. If you can open your heart and home to just one fur ball you can make a difference! By becoming a Foster you are not only saving a life, you are helping give a Siberian a chance at a new home...a new life! Can you look into this fur babies eyes and not want to help? Click HERE to find out more!
If you find any problems with links or images please notify the webmaster